Today, after much hype and expectation, Adidas Running announces the highly anticipated collaborative project with legendary HBO® television series Game of Thrones.
The "Idea"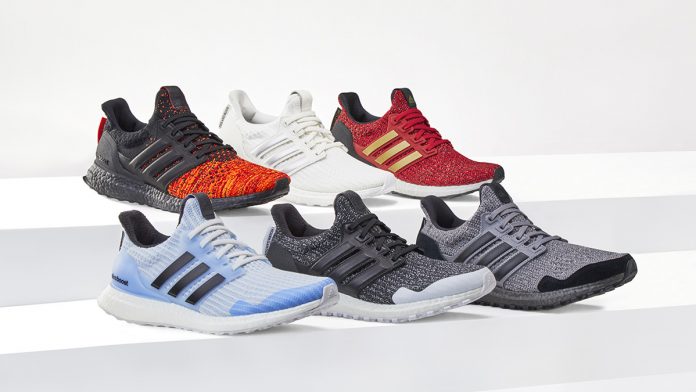 Since it first hit the screen in 2011, Game of Thrones has made waves across the entertainment landscape, transcending the world of Westeros to firmly anchor itself in modern pop culture.
Now, ahead of its eighth and final season, Adidas has reimagined the iconic houses and characters of Westeros in sneaker form. Therefore, the collaboration features a collection of six limited-edition Ultraboost. Each pair is carefully designed to represent the characteristics, colours and details of the heroes and villains to which they refer.
The "Preview"
The "Details"
As mentioned, these shoes feature subtle references to the different warring factions of Westeros. Details include their faction's sigil on the tongue and motto on the heel tag. House motifs inspired by the show come together to create bold and distinct colour ways. The Adidas X Game of Thrones Ultraboost silhouettes fuse performance-oriented footwear technology with a striking and cultural visual aesthetic.
Each shoe in the collection features signature BOOST midsole technology for unlimited energy return. Plus, a Prime knit upper for lightweight performance. Add to this the iconic heel counter for adaptability and support. And finally, a variety of extravagant materials on the shoes.
The "Quotes
Alberto Uncini Manganelli, General Manager Adidas Running
"Collaborations with franchises like Game of Thrones are part of our DNA. When brands and television series alike are able to move beyond their primary platform and spill into popular culture, we see inspiration. The project is yet another example of our open source strategy by which we treat our most iconic silhouettes as a canvas upon which we can tell a story."
Jeff Peters, Vice President of Licensing and Retail at HBO
"The Ultraboost x Game of Thrones collection represents the fusion of two powerhouse brands in a form that is sure to be highly sought after by athletes, sneakerheads, fashionistas and Game of Thrones fans alike. Over the lifespan of the series, Game of Thrones fans have shown their love of innovative and quality licensed products that create new opportunities to interact with their favorite show. We are very excited to release our Adidas Ultraboost collection to celebrate the upcoming final season with them!"
"Sneakers are coming"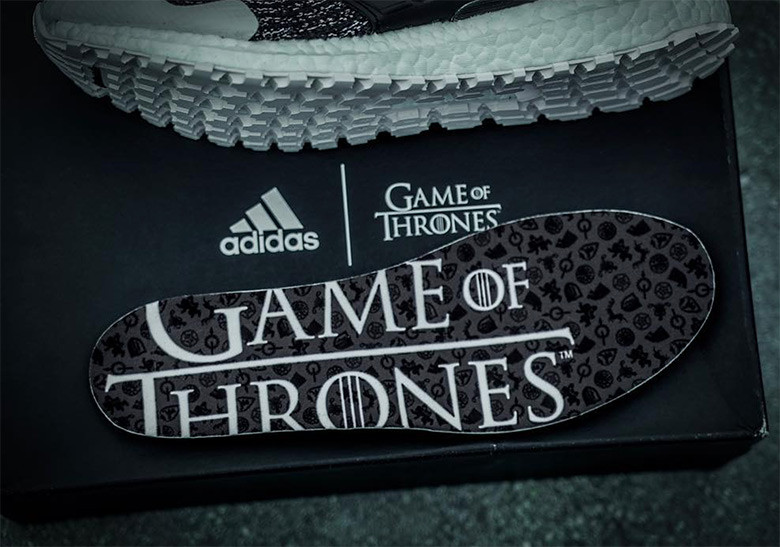 The limited-edition Adidas x Game of Thrones Ultraboost will be available exclusively at Adidas (via the Adidas app) and at select retailers from March 22nd, 2019, for $180.
Of course, this day was obviously not a random choice. In fact, few weeks later it is the return of the series on the screens: April 14 2019. Everything is calculated to create a monumental buzz.
The entire collection on the next page –> CLICK HERE