Custom Jordans are way less known than other personalized sneakers such as the Nike af1. This may be because the Jordan silhouettes aren't as easy to customize as other sneaker canvas. However, when you dig a little on the internet, you can find sneaker artists who do custom high tops like Jordan 1s.
But, finding good sneaker artists isn't easy and we know it. So, we decided to help you by gathering our favorite Nike Jordan customs of all time. We were quite thorough and listed almost every model from the Nike Air Jordan 1 to the Jordan 12.
Best Custom Jordans of all time
If you're a basketball fan, there's no way you won't like at least one of these custom Jordan cleats. In fact, these sneakers do not only carry the sport's spirit but also have their own streetwear style. So, you can wear these custom made basketball shoes in and out of the court. Here's an interesting article with ideas of what to wear with Jordans.
Custom Air Jordan 1
Air Jordan 1s have always been the most popular of the series. In fact, they have stood the test of time since 1985. It makes them one of the oldest shoe models that are still trendy in 2019. Take a look at these stunning custom Jordan 1s.
"MJ" custom Jordan 1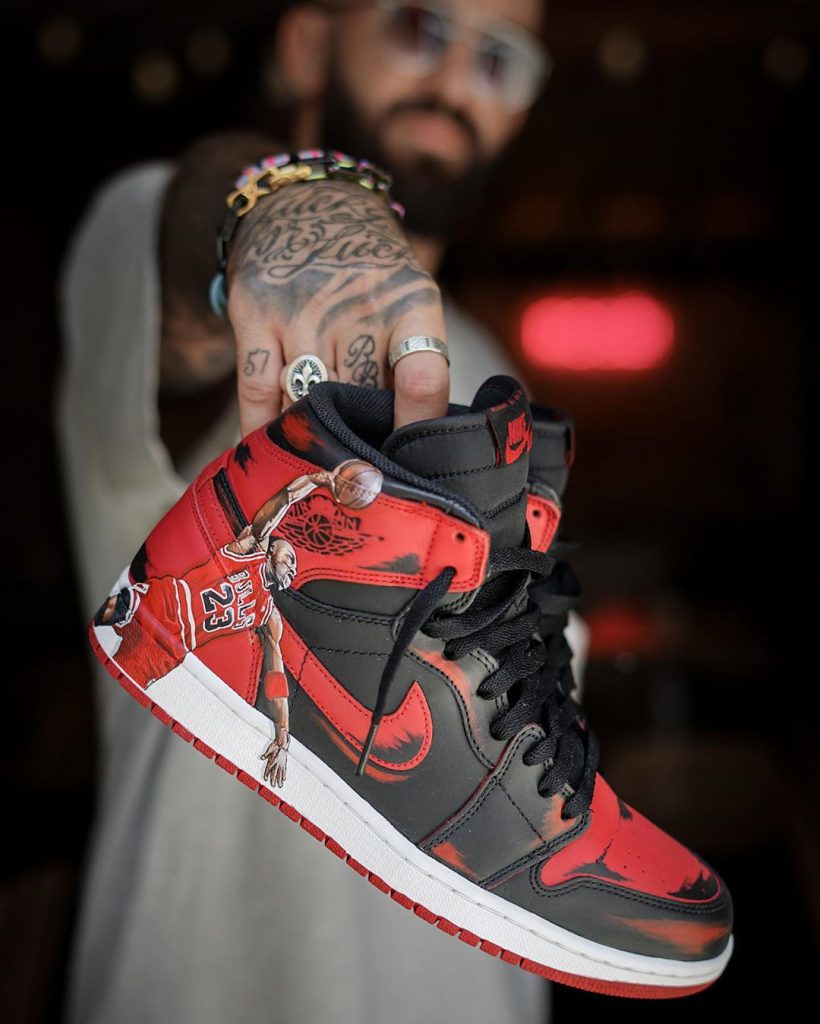 This Air Jordan 1 Custom was created by the French sneaker artist @silni.art. He is one of the best customizers there is. Take a look at his Instagram and send him a DM if you want to purchase a unique pair of custom Jordans.
"This is your life" Jordan 1 custom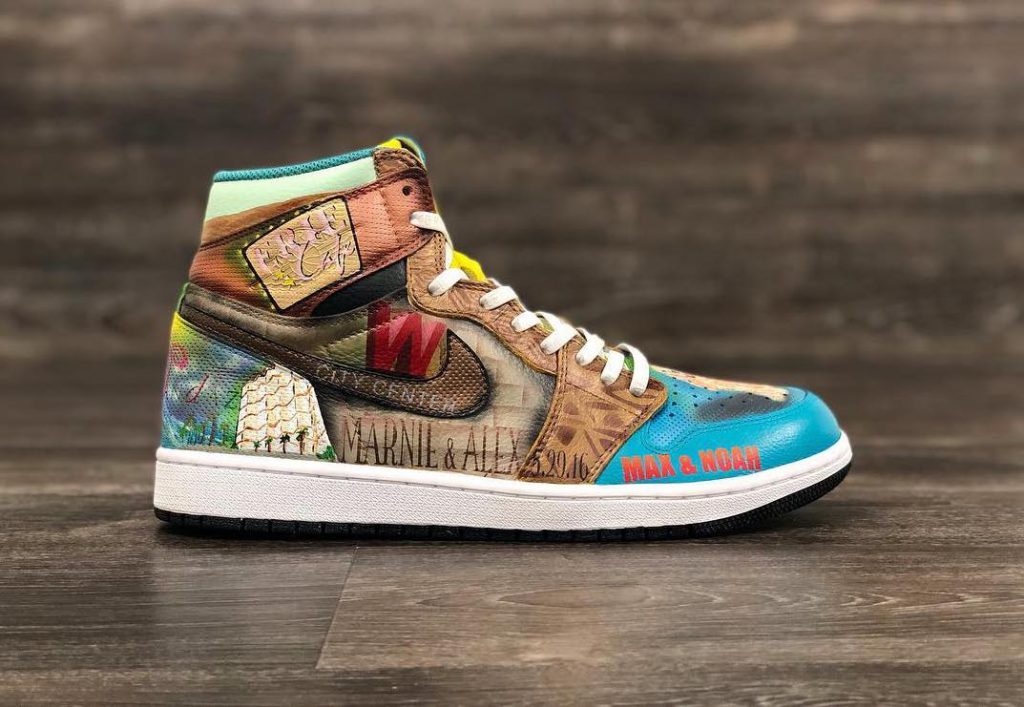 @AstrotorfCustoms is quite a unique shoe artist. In fact, he personalizes sneakers according to his clients' life events. This particular air Jordan 1 custom was created for his long-time friend's 40th anniversary. Contact him by email if you want to buy a pair for yourself [email protected]
Custom Jordan 4
So, let's continue with Custom Jordan 4s. This type of personalized shoe is a little rarer. In fact, it is the materials of the silhouette that makes it harder to customize. Nevertheless, skilled kick artists are still able to create stunning air Jordan 4 customs. See for yourself.
"Simpsons" custom Jordan 4s
This is the best Simpsons sneaker custom we've ever seen. The drawings on the shoe tongue are crazy realistic! Congratulations to @Zaeway for this personalized Jordan 4 sneaker. Take a look at his Instagram if you want to see his work.
"Easter" Jordan 4 custom sneakers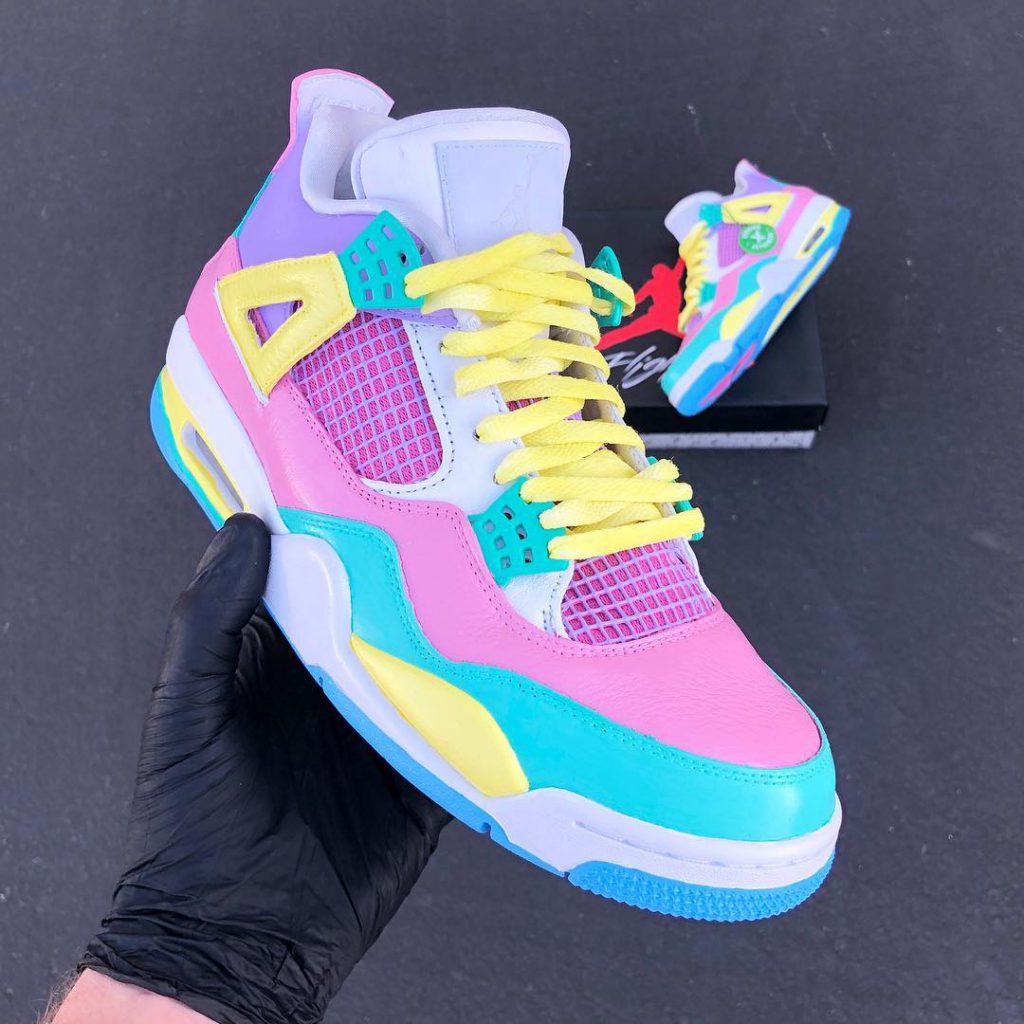 Sometimes, all you need is a new colorway. Blake Barash is a pro when it comes to changing your sneaker's colors. There are plenty of custom Jordans for sale on his website.
Custom Jordan 5
Jordan 5s have a similar design to the Jordan 4s. They are also rare to find, but it is not impossible. Here are two sneaker artists who have done Custom Jordan 5s.
"Deadpool" Jordan 5 custom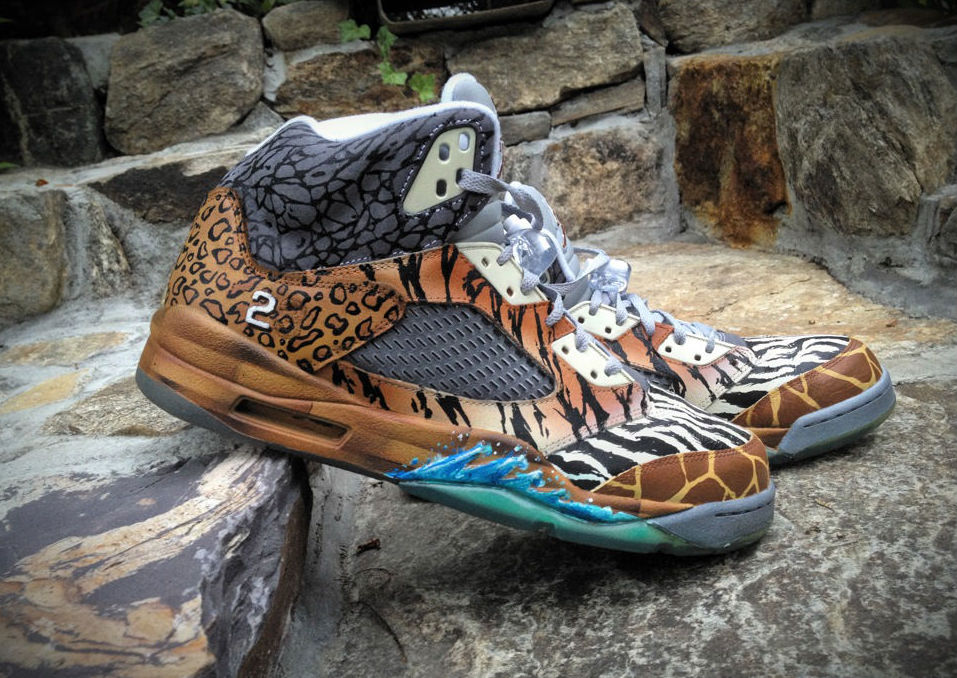 Zebra, Giraffe, leopard, tiger, elephant, all these prints were created to represent Noah's Ark.  This shoe custom made by Mache not only stays true to its inspiration but also looks stylish. Visit the company's Instagram to see other Air Jordan 5 customs.
"Dripped Berry" Custom Jordan 5s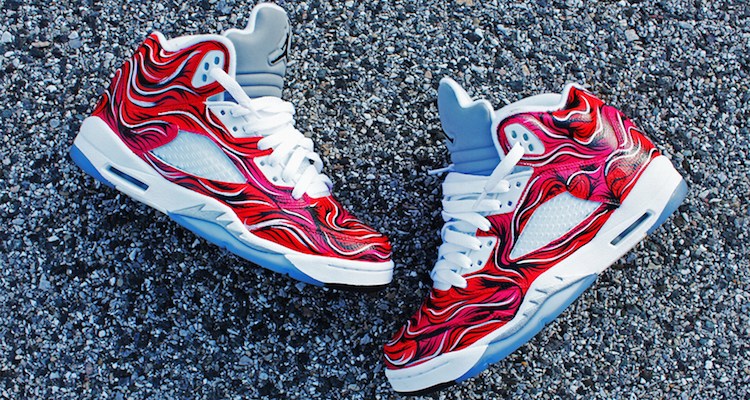 This sneaker artist is known for his splashy designs. He likes to mess with flashy color drips when he customizes kicks. He's been into it since a couple of years and his designs are constantly improving. Take a look at his custom creations on Instagram.
Custom Jordan 6
Let's dive into custom air Jordan 6s. This classic silhouette is selling since 1991 and people are still into it. We selected two crazy Jordan 6 customs.
"Luxury" Air Jordan 6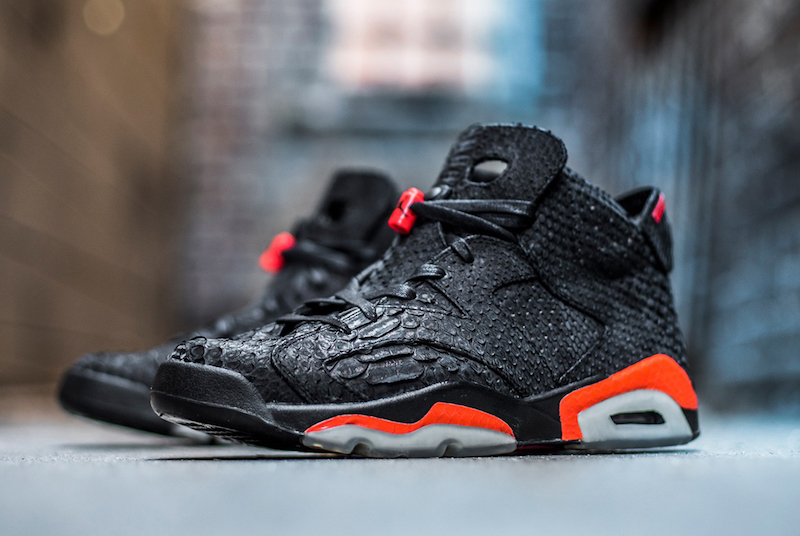 @theshoesurgeon is one of the best and most expensive sneaker artists worldwide. He doesn't only make custom shoes with paint and drawings. In fact, he repurposes the whole shoe with high-end materials. Unfortunately, you have to be quite wealthy to afford a custom sneaker by him. Most pairs are selling for over $4 000. Speaking of exclusive Jordans, here is the top 10 most expensive air jordan sneakers of 2019
"Malphite" Jordan 6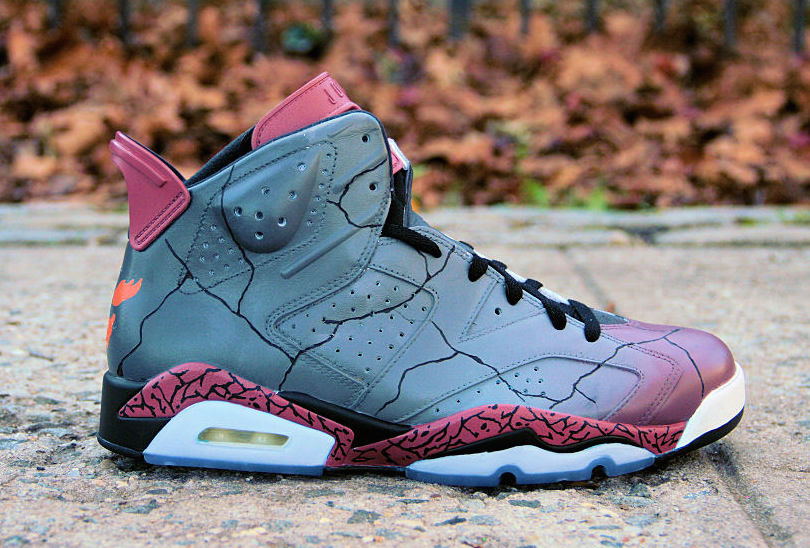 A one-of-a-kind sneaker created by Ecentrik artistry. This brown Nike Jordan 6 model was turned into a Malphite custom, honoring the character from League of Legends. Shop some similar shoes on this website.
Custom Jordan 8
Air Jordan 8 customs are extremely rare. We decided to add this category to show you a design that made us laugh.
"Crying Jordan" Jordan 8 custom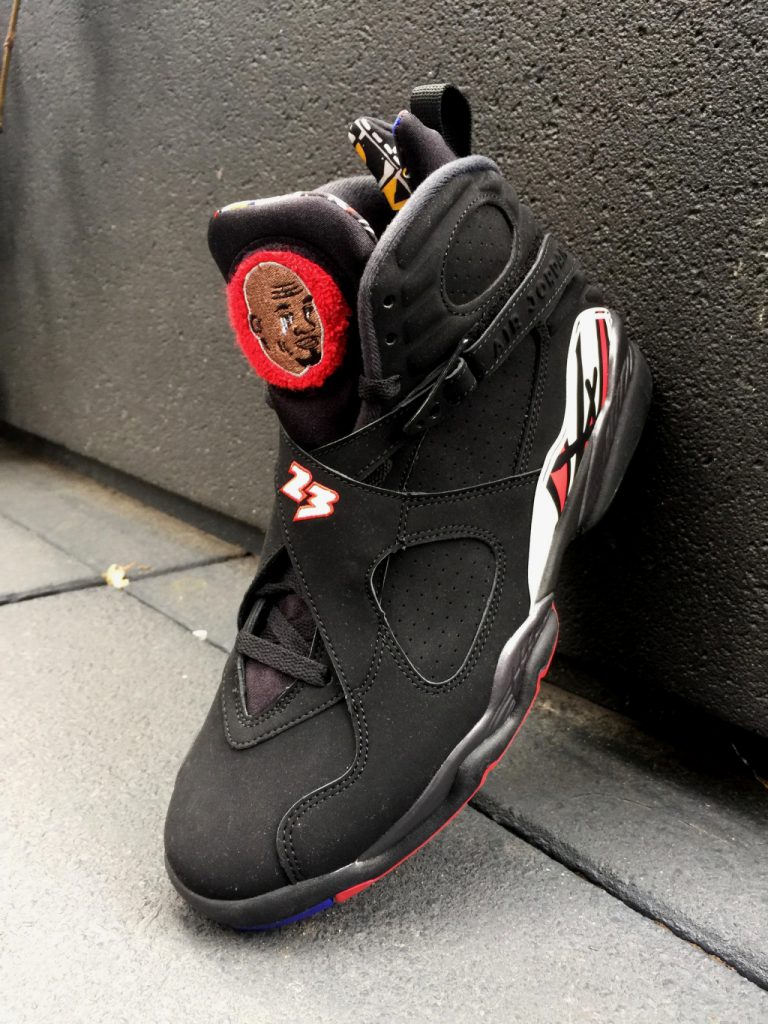 @djshermski and @aweiss87 added the famous crying Jordan meme to a pair of 8s. The result is quite funny and actually doesn't look bad!
Custom Jordan 9
Jordans 9s are also difficult sneakers to customize. However, we managed to find two sneaker customizers who have done amazing designs on the Nike Air Jordan 9.
"Bart Simpson" personalized Jordan 9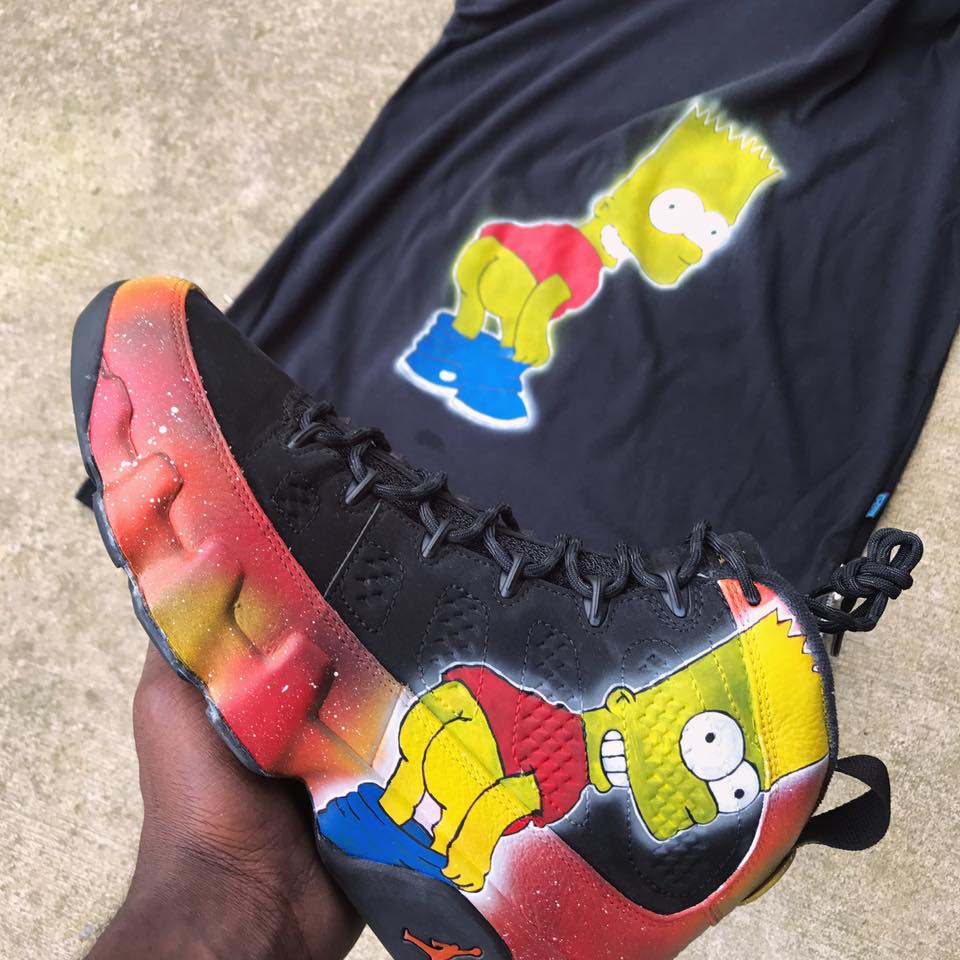 HUNNIDcustoms created this one of a kind "Bart Simpson" sneaker custom and matching hoodie. We love the glowing appearance of the print. Head over to this website to order a pair for yourself, prices are pretty fair!
"Blue blue" personalized Jordan 9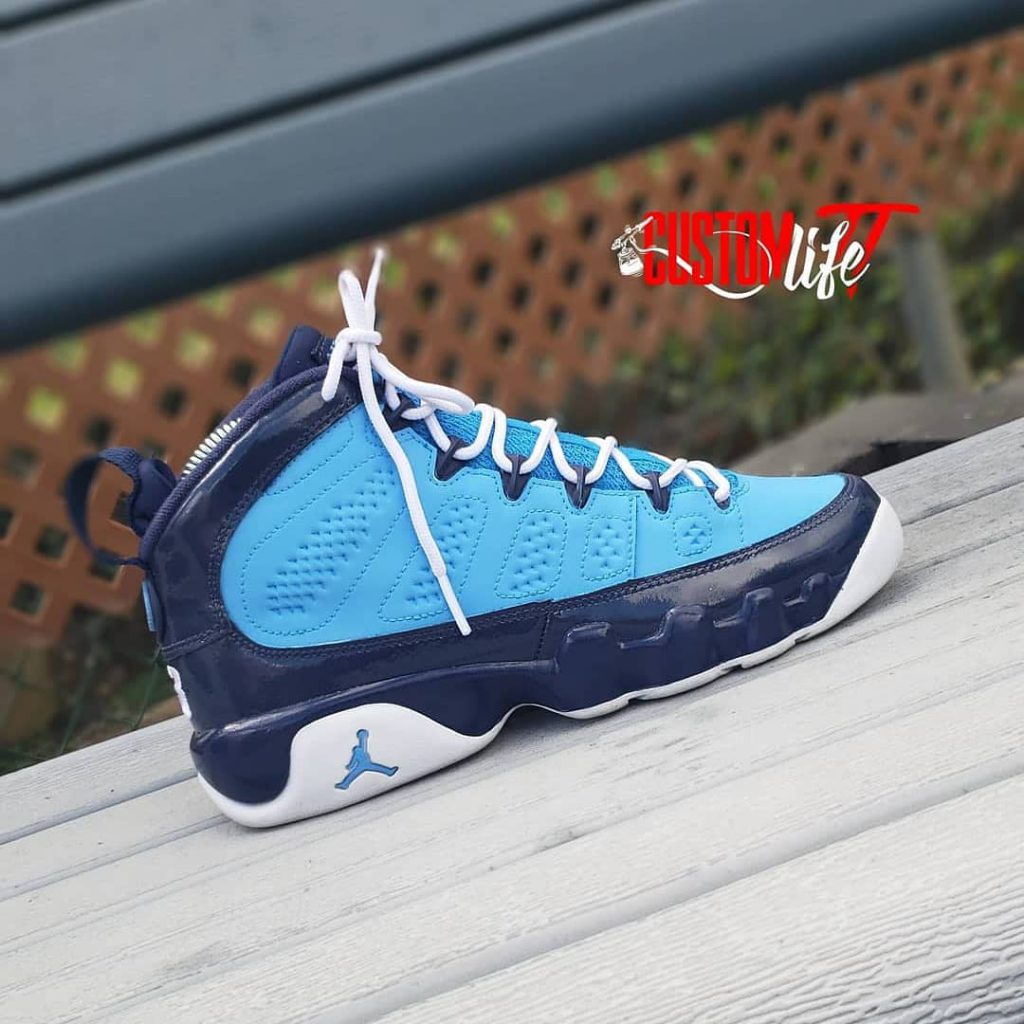 We love this sneaker custom because of its simplicity. Unlike other personalized kicks, it isn't too flashy or too special. So, you can rock it with almost any monochrome outfit. Take a look at @custom.life.tt Instagram to see more of his designs.
Custom Jordan 10
The Jordan 10 was the second model of the series to drop. It launched in 1994 and, at first, it featured an extra leather toe cap which didn't look good at all. Michael Jordan requested it to be removed afterward.  Although the model changed a lot over the years, it is still very popular. Take a look at these unique Jordan 10 customs.
"Black Panther Wakanda" personalized Jordan 10s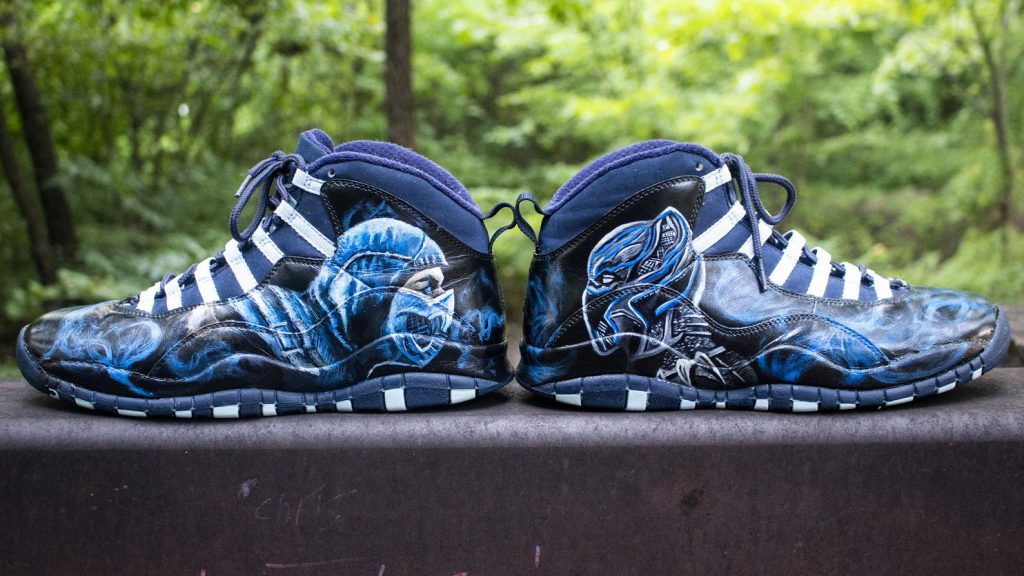 If you're a fan of Marvel Comics or Mortal Combat, you'll definitely want to get your hands on these custom jordans. They feature realistic prints of both Black Panther and Sub-Zero. Fortunately, this particular model is still for sale here.
"Black Sheep" personalized Jordan 10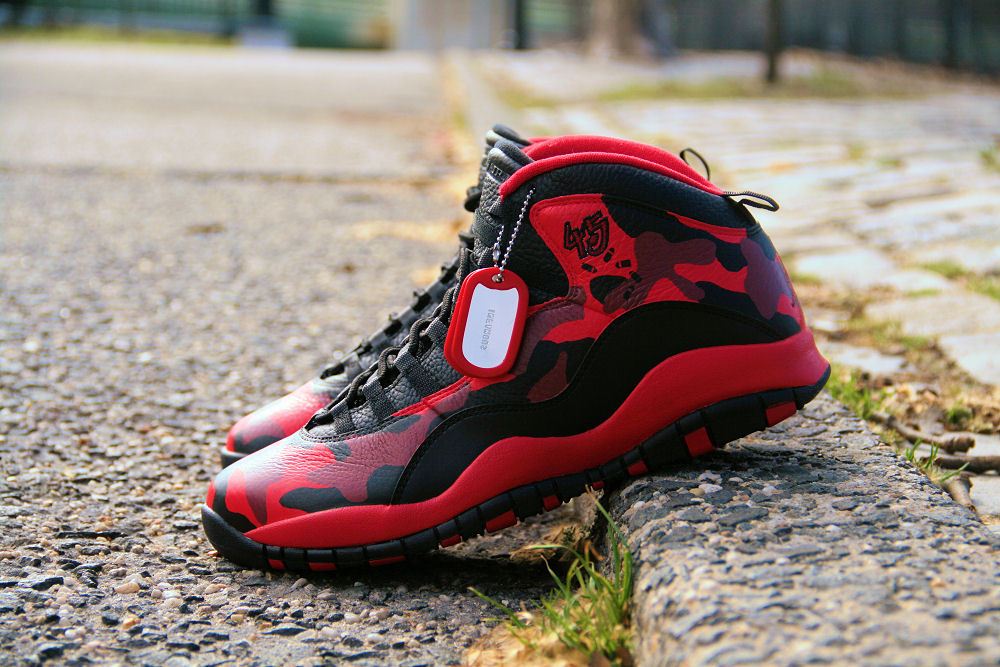 This is another cool project by Ecentrik Artistry. It features a pair of Nike Jordan 10s with a red and black camo custom print. Head over to the company's website to discover other custom kicks available for purchase.
Custom Jordan 11 Low
The Jordan 11 low was released 5 years after the regular mid-top cut. Since 2001, this shoe has been a huge part of the streetwear community. No wonder why sneaker artists thrive to customize Jordan 11s.
"Renaissance" personalized Jordan 11s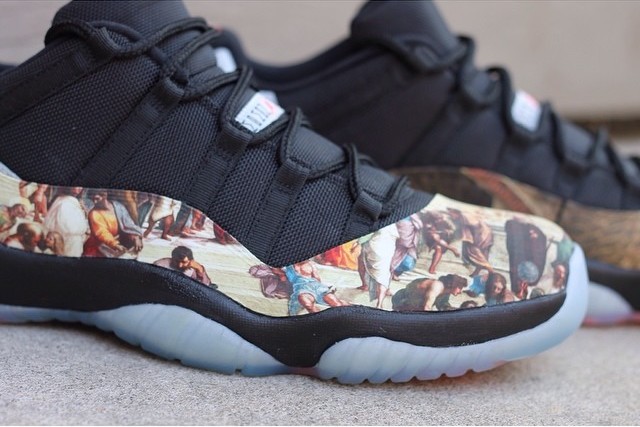 Amac customs have mastered the art of gathering sneakers and paintings. Obviously, you can see how good they are by taking a look at the details of this renaissance print. However, this custom Jordan 11 isn't the only one that is impressive. Take a look at their website, you won't be disappointed.
"Hipster" Air Jordan 11 low custom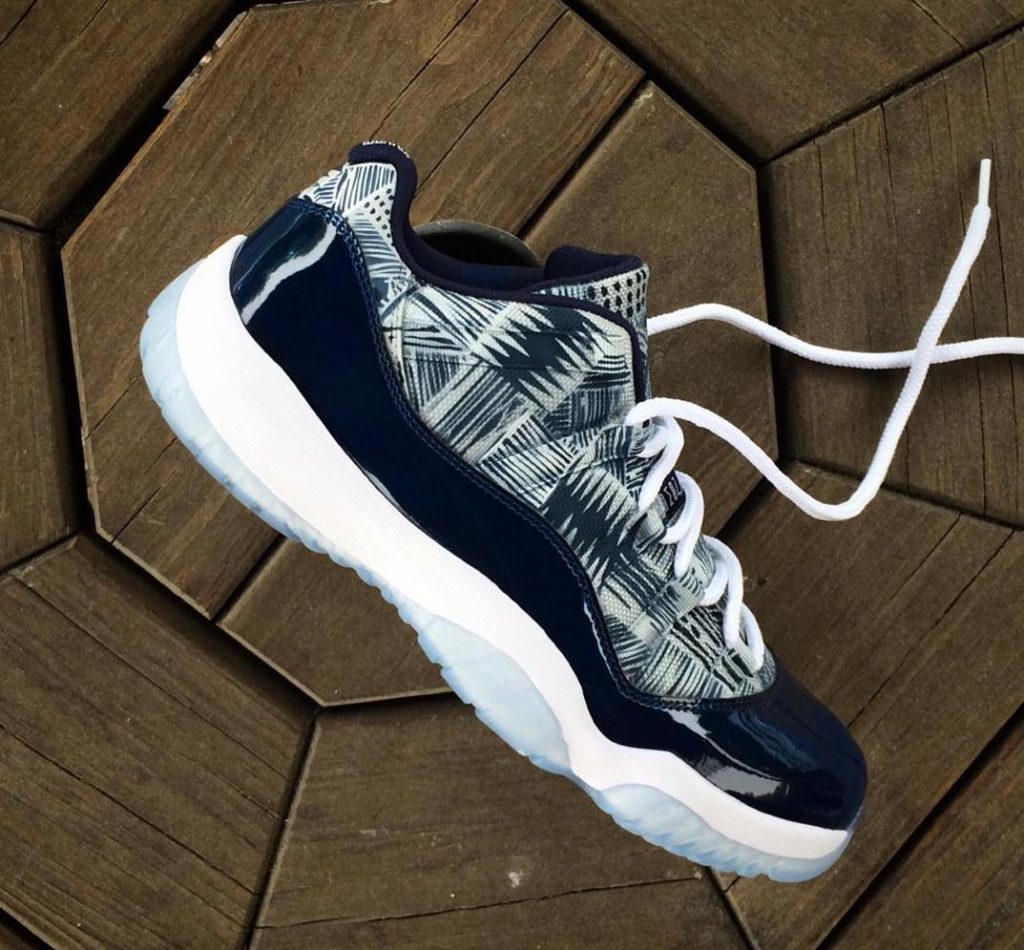 This shoe was created by the same sneaker artist behind the Noah's Ark custom above. Visit his website to discover plenty of custom jordans for sale.
Custom Jordan 12
During the first release of the Jordan 12 in 1996, Nike.com had received so much traffic it made the website crash. The release had to be delayed due to this technical difficulty. Jordan 12s were hype sneakers back in the '90s and are still today. Here are two unique Nike Jordan 12 customs.
"Bape Camo" custom made Jordan 12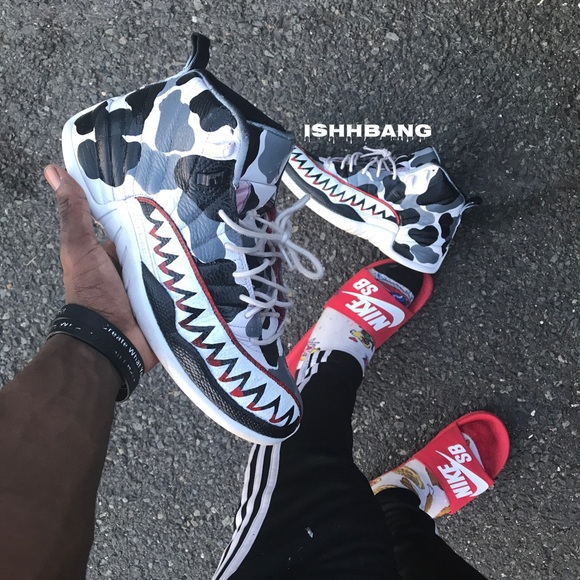 This sneaker artist loves to personalize Bape style shoes. Take a look at Ishhbang's website for more custom jordans for sale.
"Vintage" Air Jordan 12 low custom
It is nice to have a custom shoe that actually means something. Well, this one was created in honor of black history month by sneaker artist @rocketboynift. We are glad to see sneaker artists involved in political and social culture.
Well, we hope you liked our selection of the best custom basketball shoes. Make sure to take a look at the sneaker artists featured in the article. This way, you will be able to choose which one is the best to create your own custom jordans.