Continuing to deliver powerhouse collaborations, BAPE teamed up with Levis to create an interesting mix-&-match collection for SS20. Here is a complete look at the capsule and where to buy it.
BAPE x Levi's Collaboration
In November 2019, Bape took it to Instagram to tease an upcoming collaboration with denim giant Levi's. On the post, we could see the APE HEAD motif placed alongside Levi's iconic red logo. Both were simply joined by a black "X".
It was in late 2019 that BAPE and Levi's unveiled their highly-anticipated capsule collection that included two limited edition jackets and a T-shirt.
Now, the duo is back for a Miami-exclusive SS20 collection.
BAPE x Levis SS20
The new collaboration between the streetwear brand and the denim giant mixes the identities of both companies.
In fact, the collection includes 2 Levi's Truck Jacket, one classic and the other revisited in a Miami camo print. Both feature a zipper at the back that allows you to merge the jackets as you wish.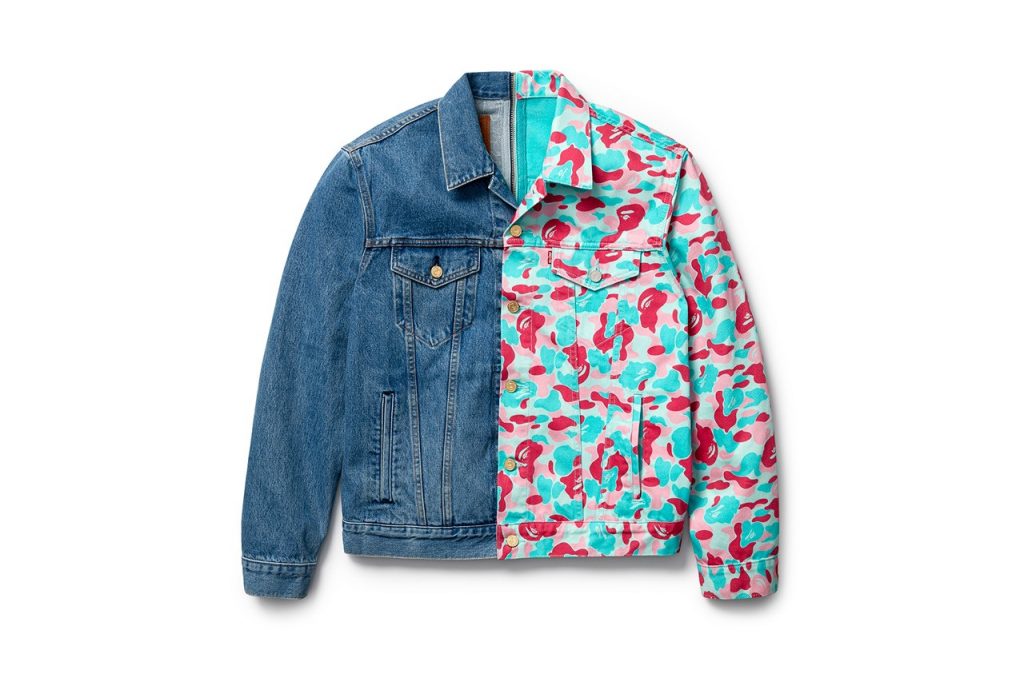 The key feature of the new collection is to give to the customer the opportunity to mix the two pieces together and thus compose four jackets with a unique look.
Customization options include BAPE and Levi's patches and screen print graphics.
A co-branded T-shirt with an embroidered patch complete the capsule collection.
Take a closer look at the BAPE x Levis SS20 Mix and Match collection in the gallery just below!
[wp_flickity id="163″]
Buy the BAPE x Levis Collection
The Mix and Match collaborative truckers and the T-shirt were released on March 6 exclusively at Levi's Haus Miami pop-up.
For online buyers, the pieces will soon be available at some retailers like StockX. But, you can expect to pay much more than the retail price to get your hands on one of the pieces.
In the meantime, Will Smith tapped Miami City for his latest Bel-Air Athletics Collection.