For sneakerheads, nothing is more important than protecting and taking care of sneakers. It is what makes them keep their value. With this in mind, Solomon Pech created a bold Satin-Covered Jordan 1 Sneaker Box. Here is a closer look at the luxury sneaker box.
Satin Jordan 1 Sneaker Box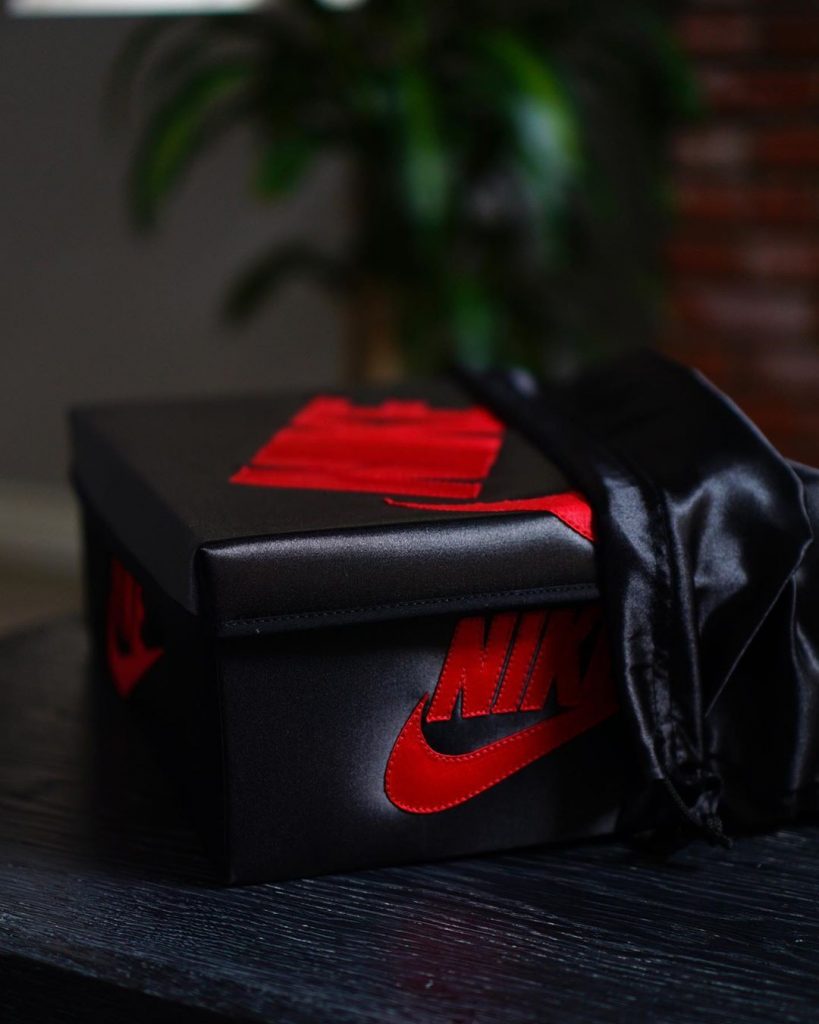 For most sneaker customizers, the highest level of detail and attention is often paid to every aspect of a sneaker, including its box.
The latest creation of Solomon Pech proves just that. In fact, the artist created a custom sneaker box to go with matching Jordan 1s and the luxury accessory is truly impressive.
Sneaker Box Details
Solomon Pech, known as @hoopfr3sh on Instagram, has shown off a satin covered Air Jordan sneaker box, mimicking the cardboard rendition to the deepest level.
The full-black box comes with red branding. The container features a satin exterior with tonal embroidery stitching for the padded Nike logos.
Inside, the box remains all-black with a velvet lining, along with a specialized patch denoting the limited-to-10 serialization of each pair. On this one, the number 7/10 appears.
The luxury box also comes along with a satin bag!
Take a look at the custom sneaker box in the gallery just below.
[wp_flickity id="220″]
Obviously, the sneaker box comes with the custom satin Air Jordan 1 that hoopfr3sh also created.
The sneaker is built upon a donor pair of Jordan 1 "Chicago" and is handmade with traditional shoemaking methods. The sneaker and its box make up the customizer's service for what he calls his "Collector's Edition."
Here's what the Satin-Covered Jordan 1 sneaker looks like.
[wp_flickity id="222″]
Buy the "Collector's Edition"
hoopfr3sh has listed this customization service for $1,985 USD. But, unfortunately, the latest appears "sold out" on his official website.
While you're here, you might want to know that, earlier this month, Nike opted to turn its iconic orange shoebox into a rectangular bag. The latest uses the exact same colours and embellishments as the box it was inspired by.