Last week we gathered the official pictures of the Harry Potter x Pandora jewelry collection. Now the wait is over, the charms collection has just been released!
Pandora Collaborations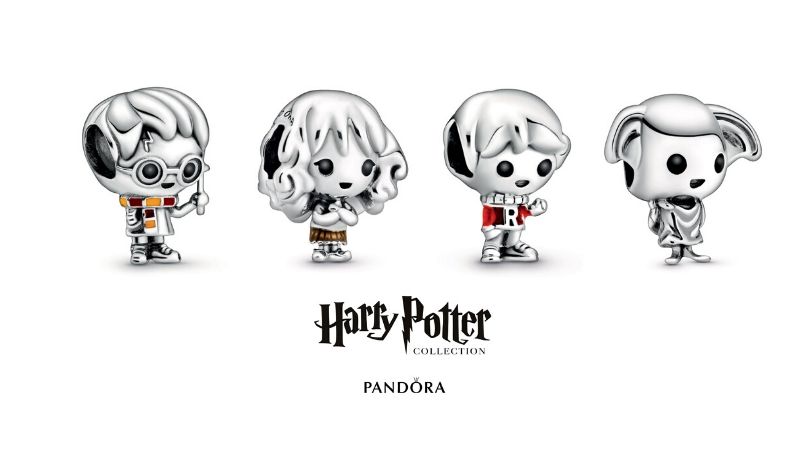 It is not the first time for the Danish jewelry manufacturer, Pandora, to collaborate with a movie franchise. Indeed, Pandora is already famous for its numerous Disney collections.
Even though there are a lot of cinema collaborations, there is one that we were particularly waiting for, the Pandora x Harry Potter! Thankfully, the anticipation is now over, the new series of Harry Potter Pandora jewelry just got out.
Announced a few months ago, this new collection is finally available everywhere in the world.
Just before Black Friday sales and in the midst of Christmas shopping, Pandora has added a very interesting gift option to everyone who grew up with Harry, Hermione, and Ron.
Take a complete look at the Pandora x Harry Potter collection in the section below.
Pandora x Harry Potter Collection
As we covered last week, the collection includes charms featuring Harry Potter in his Gryffindor scarf, Hermione in her Jaccard skirt and, of course, Ron in his famous Christmas sweater.
Moreover, the collection includes a Dobby charm as well as a Hogwarts Express locomotive one which features the engraving "Anything from the Trolley, dears?". There is also a stiff bracelet with a clasp in the shape of the Golden Snitch. It presents the engraving "I open at the close".
Be a star Quidditch player with this Pandora Shine pendant, inspired by Harry Potter's Golden Snitch. Available in limited-edition!
Finally, 4 charms that represent the emblems of the Hogwarts Houses are also included. Each one presents engravings defining its respective house.
The last piece of the collection is the Hogwarts School of Witchcraft and Wizardry Charm. This sterling silver charm depicts the iconic castle in stunning openwork detail, and it also features the school's prestigious crest on the other side.
Here are some inspirations for your next Harry Potter bracelet or necklace!
Buy Pandora X Harry Potter Collection
The collection is has been released on November 28, 2019, on Pandora.net. Don't waste time and grab the perfect Christmas gift, or simply treat yourself…
Pinterest