Japanese accessory maker U-Treasure sees the true beauty of the Water-type Pokémon and unveils Magikarp necklaces in 18k Gold and Silver.
U-Treasure Magikarp Necklaces
Bringing your favourite Pokémon with you wherever you go and doing it in style is a dream come true for all Pokémon fans.
Well, the Japanese accessories company U-Treasure has made this dream possible with the release of limited edition necklaces honouring Magikarp in gold and silver iterations.
The brand has captured the majestic beauty of this fictional fish in his most impressive moment in the video game, the well known "Splash attack". The latest is playfully followed by the response of "But nothing happened" in the original video games.
U-Treasure has decided to pay tribute to the Pokémon 129 index number by crafting only 129 pieces. In all these covetable necklaces, 119 of them come in silver and just 10 in 18k gold.
Moreover, the gold version even comes with its very own paulownia wood box. The latest is the best way to keep your precious necklace safe. In addition, the box is decorated with a golden Pokéball.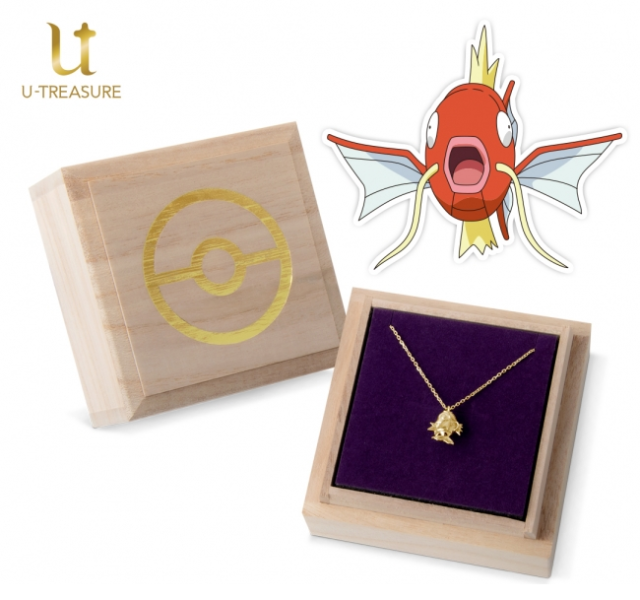 Buy the Magikarp necklace
Pokemon lovers, U-Treasure's Magikarp necklaces are already available on the brand's online store. The retail price is set at $125 USD for the silver version and $1,250 USD for the gold edition.
Pokemon Collections
In 2019, Celio proved that fashion and geek culture can be compatible just in time before the launch of Pokémon Sword and Shield.
Then, back in March, images of a Pokémon x adidas Campus collab were revealed. They were shortly followed by a another Adidas x Pokemon capsule featuring exclusive footwear and as well as an apparel collection.
If you love Pokemon, take a look at the upcoming Adidas x Pokémon 8 Bit sneaker collab.
Stay tuned for more fashion releases and don't forget to follow us on social media.