It may be because we hate to get rid of anything, even if it's only for a few months, but we like the idea of wearing our seasonal pieces year-round. Here are 5 different ways to wear shorts in winter.
How to wear shorts in winter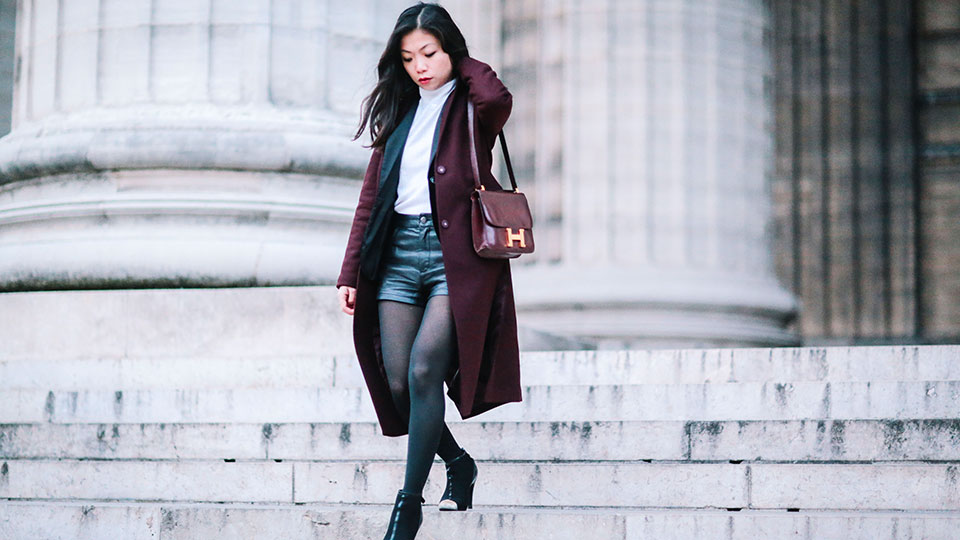 One of the most annoying things about the weather turning cold is the steady pile of summer clothes that we seemingly can't wear, which serves only to mock us and remind us of the fleeting days of the hot season.
When you look at that pile crop tops, cocktail dresses and shorts you can't help yourself but pray for summer to come back soon. That said, there are some pieces that you can keep wearing in winter, which can make the cold season seem to go faster.
Really, there's no reason to ditch your shorts in winter.
While it's a long-debated tactic to wear tights with shorts when it gets cold, some people love it, others hate it. So, for the ones who love it, here are no fewer than five ways to wear shorts in winter.
There are two main factors to take into consideration. First, the fabric, you must stay away from super-summery textures like eyelets and linen. Instead, opt for denim, wool, thick cotton, or silk. The second factor is to use something to cover as much skin as possible to stay warm.
Just below, we've gathered five interesting outfits to show you how to wear shorts in winter without sacrificing warmth nor style.
#1 Mini Shorts & Over Knee Boots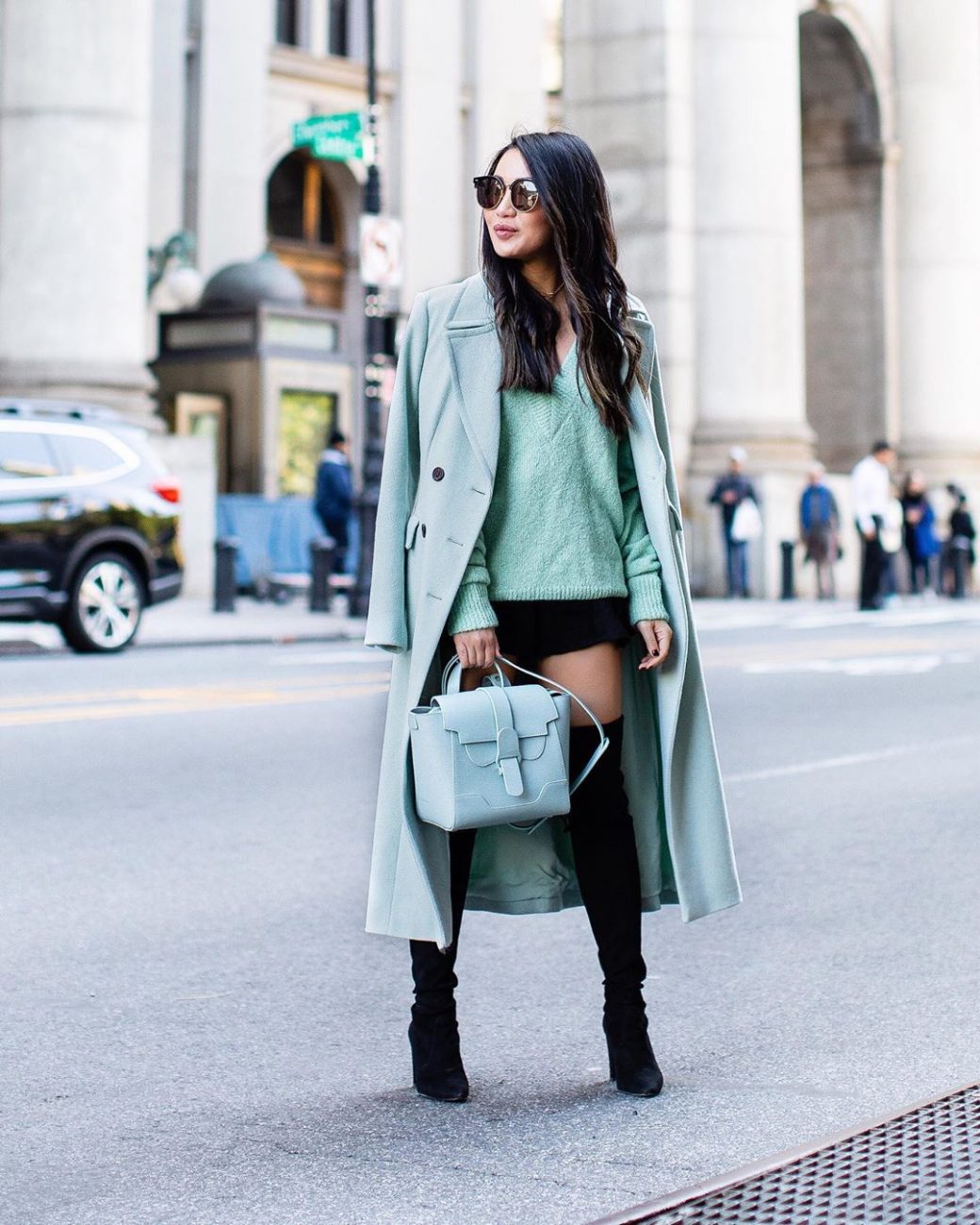 Mini shorts and over the knee boots are a super easy outfit idea. Considering the fact that you probably own a ton of summer shorts, all you need to do is find an eye-catching pair of boots to keep your legs warm. Complete your winter style with an oversized sweater and a trench coat.
Pro tip: you can wear chunky wool socks underneath your boots. They will add a strong layer to protect you from being cold and no one will notice it.
#2 Leather Shorts & Over Knee Boots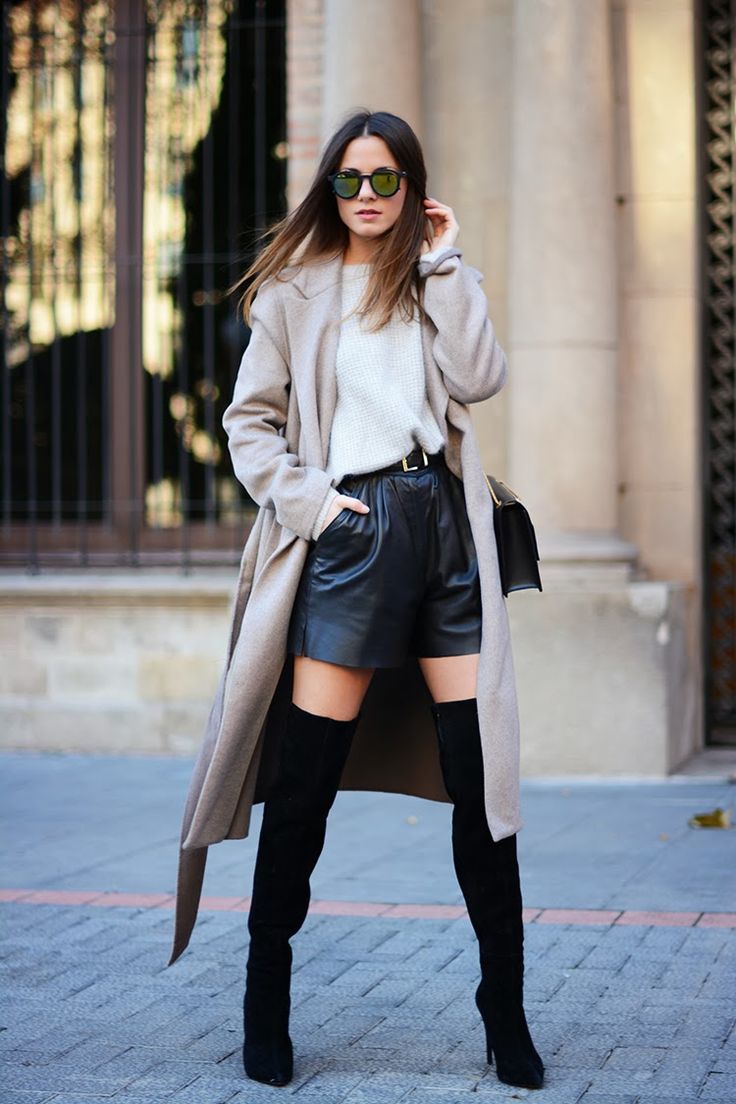 Leather accents always make an outfit look special, no matter if it is from a leather jacket, handbag, top or even leather shorts. Match your leather shorts with opaque tights or over the knee boots. The result looks super chic.
Pro tip: just like for the first outfit idea, don't forget that you can wear chunky wool socks. Also, when you consider wearing leather shorts in winter, opt for high waisted ones. They look awesome with a sweater and a coat.
#3 Denim Shorts & leggings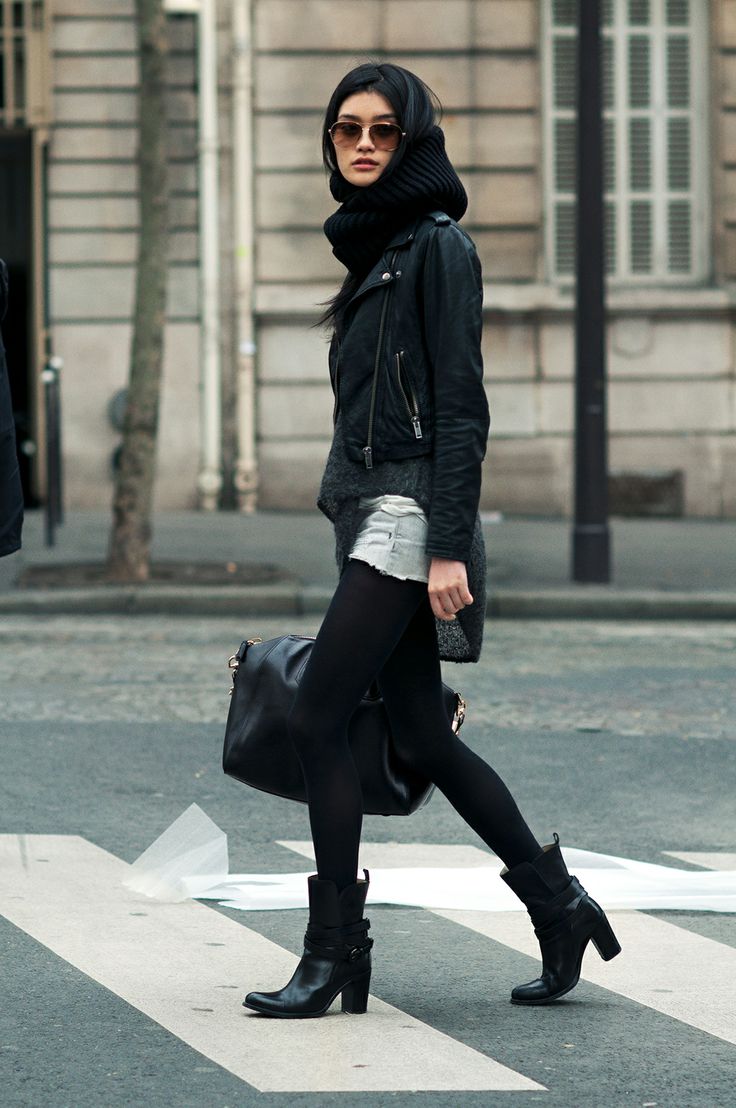 Denim is a cool way to emphasize your uniqueness. In fact, denim shorts are much more noticeable in winter than any other pair of shorts. They stand out mostly because of their color. To play with the contrast, wear them with an all-black outfit, it will make the shorts stand out even more.
Pro tip: opt for a thick pair of leggings that will keep you warm and complete the style with a cute pair of ankle boots.
#4 High-waisted shorts & tights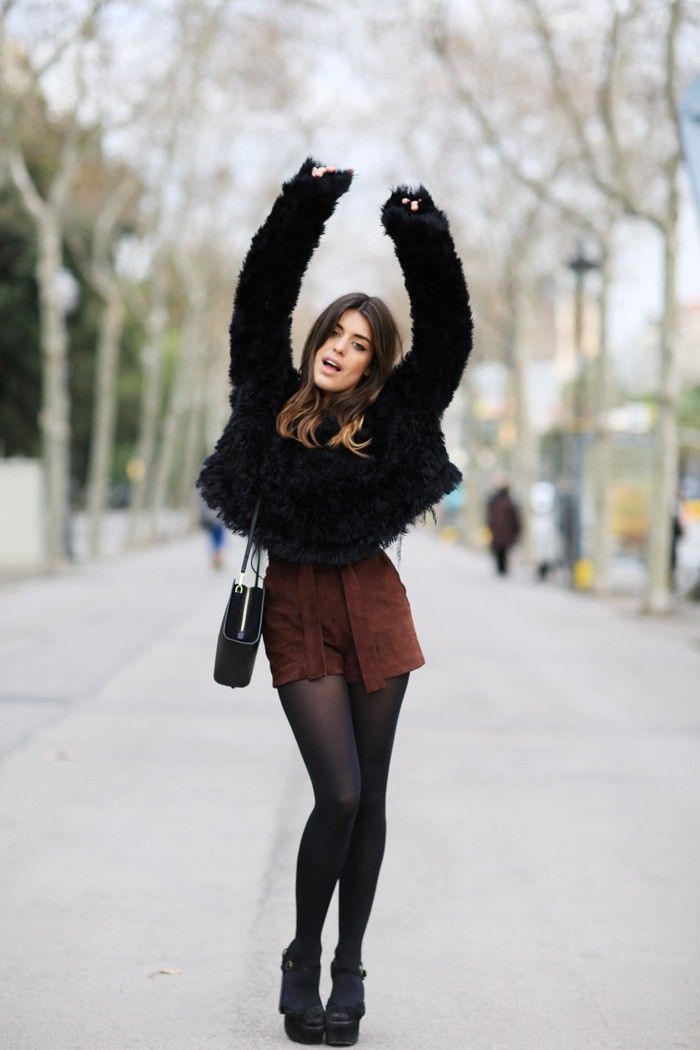 Black opaque tights can be another great item to pair with shorts in winter. When you are wearing black tights, don't be afraid to wear colored shorts. Complete your style with a sweater or even a teddy coat.
Pro tip: select the thickest tights you can find. Otherwise, this style might not be comfortable when temperatures are cold enough.
#5 Layered winter shorts outfit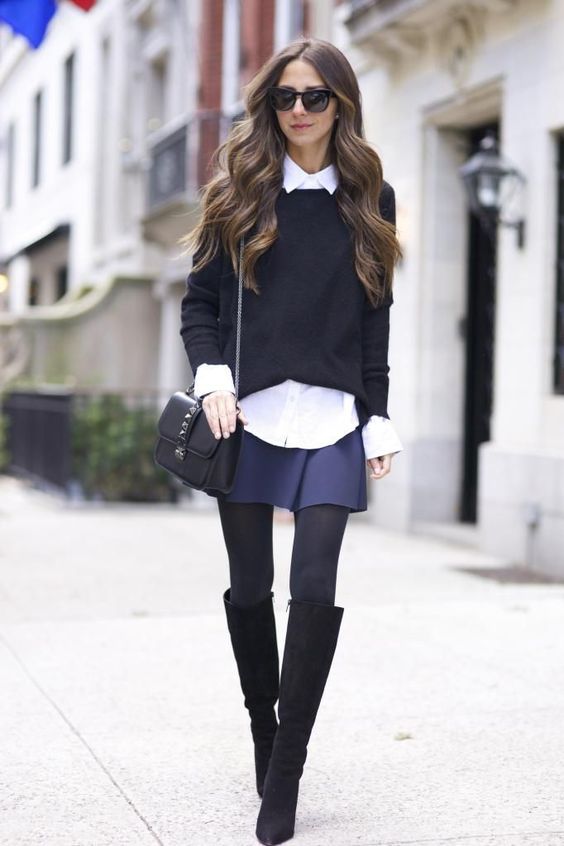 Our latest advice on how to wear shorts in winter brings the art of layering to a whole new level. To wear this style, start by figuring out how to superimpose the upper part of your outfit. Either wear a shirt and a sweater or an oversized tee with a hoodie. Then, add your bottom layers by pairing a skirt with tights and over the knee boots.
Pro tip: don't forget that you can add an extra piece of layer by wearing a coat or a jacket.
For more tips and tricks here are 23 ways to wear "Classic Blue", the color of 2020 according to Pantone.