Rainy day? Don't panic, Louis Vuitton has got you covered with its latest rain boots collection. Here's an on-foot look at the upcoming capsule featuring the Rubber Archlight sneaker. It is set to release in January 2020.
LV Boots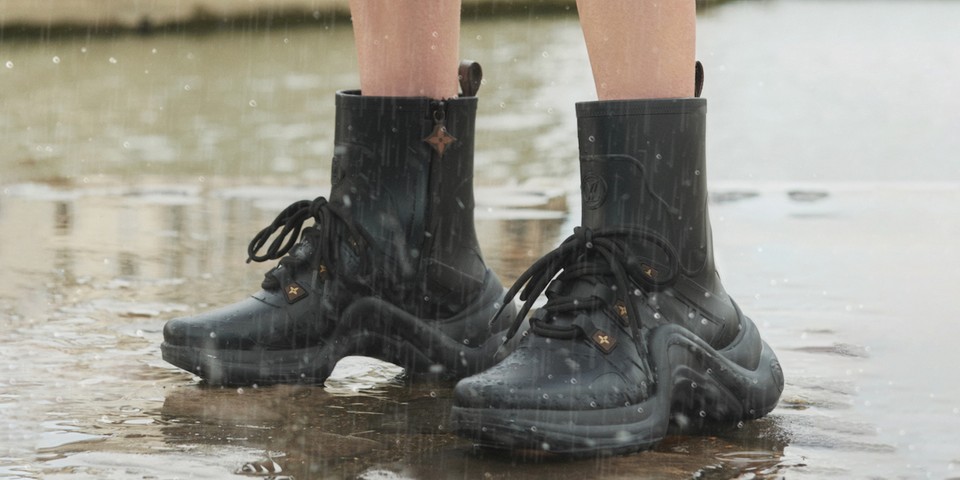 Revealed during the last Louis Vuitton fashion show, the "Rain" capsule collection features new takes on iconic styles such as the Rhapsody ankle boot and the Archlight sneaker, recognizable by its oversized wave-shaped design.
This season, the new iterations come in fully waterproof constructions, offering fashionable ways to walk your way through winter.
Louis Vuitton "Rain" Capsule
With winter and its constantly changing weather, finding appropriate footwear to wear can be hard. That's why luxury fashion house Louis Vuitton has decided to make it easier with its latest collection of rain boots. You will no longer have to wonder whether it's raining or snowing when you choose your outfit.
The brand's latest collection is dubbed the Louis Vuitton "Rain" capsule. The pieces included in the set present a mixture of practical winter constructions and stylish designs. The collection features new takes on iconic styles and plays with elements of femininity.
One of the key pieces is a rubber iteration of Nicolas Ghesquière's futuristic Archlight silhouette.
[wp_flickity id="47″]
LV Rain Boots Collection
Crafted from a 100% waterproof rubber, the designs are ideal for braving the rain. The chosen models range from the Archlight sneaker to the Rhapsody and Silhouette ankle boots, all of which received rubberized makeovers.
Colors include pink, white, black and khaki with a matte or varnished appearance. Branding details include a monogrammed leather tongue on some models. For an ultra-feminine look, opt for the Silhouette bootie featuring an elegant high heel.
This upcoming collection gives a new definition to rain boots, making them both trendy and functional.
Take a complete look at the Louis Vuitton "Rain" capsule in the gallery just below!
[wp_flickity id="46″]
Release Date
The pieces will be available on Louis Vuitton's website starting January 17, 2020.
In the meantime, take a full look at Louis Vuitton's League of Legends Apparel Collection.