The puffer jacket is gaining more and more traction in 2020's fashion trends. With so many versions available on the market, it has become hard to know which one to buy and how to style it. So, we decided to help you and gather the 25 most stylish puffer jacket outfits we've seen so far!
Puffer Jackets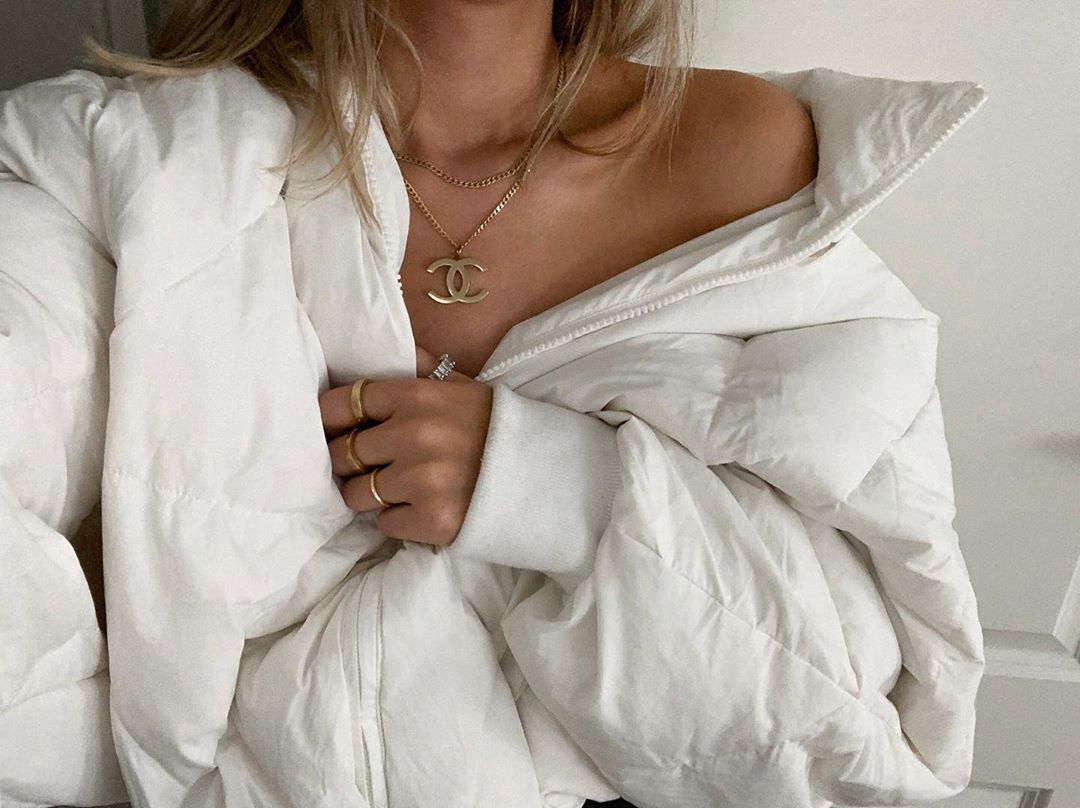 In winter 2020, if there's one outerwear piece that you must have, it's the puffer jacket. A big, bulky, and insulated coat that provides a unique streetwear style.
This item is available in many different designs and shapes. Some are better for colder days, while others are designed for warmer winter temperatures. Styles range from basic black and reflective silver to oversized maxi shapes and eye-catching vintage varieties.
The puffer jacket has an option for everyone. But, as we said earlier, it is hard to make a choice. So, we gathered to this article the best ways to wear a puffer jacket in 2020. All pictures were taken by top fashion influencers around the world such as @blvckd0pe, @lissyroddyy, @luanna, @inthefrow @arrestthisgal, @jamialix, @stephanie_danielle, @mikutas, @amybethvdl and more.
25 Puffer Jacket Outfits
We divided our 25 Puffer Jacket outfit ideas into 6 categories:
More Puffer Jacket Outfits
#1 Black Puffer Jacket
When it comes to buying almost any fashion item, black designs are always a good idea. The color is both sleek and sophisticated. Moreover, black is versatile, meaning that you can wear it with anything. Therefore, a black puffer coat can make the perfect outerwear combo with mom jeans and AF1s, for example.
To give some bulk to your outfit and especially your puffer, you can also try to mix it with a slim, pencil skirt and heeled boots. While an all-black outfit always looks stylish, do not hesitate to play with different colors. Indeed, a black puffer jacket can fit perfectly with any hue.
#2 Silver Puffer Jacket
Silver has slowly made its way back into 2020's fashion trends. It is especially growing in the outerwear market. Indeed, we recently saw a lot of silver puffer jackets on the runways and on the streets.
To style this futuristic design, keep the rest of your outfit classic. You want your coat to be the noticeable item from your ensemble. So, play with the monochromatic color palette.
#3 Colored Puffer Jacket
These ones are addressed to fashionistas. Whether it be a soft and subtle shade of pink or a shiny and eye-catching red, a colored puffer will always make a statement.
To make the most out of this style, finish it with streetwear essentials, such as a printed tee and lace-up boots or chunky sneakers. Please note that a colored puffer coat might not be the best choice if you're planning to make it your only piece of outerwear. You will most probably have a hard time creating tons of good looking outfits with a pink jacket, for example.
#4 Maxi Puffer Coat
Maxi puffer jackets not only look awesome, but they are also ideal for keeping you warm. So, if you live in a northern country like Canada or Russia, this style might be the most practical one.
With these maxi pieces, you can also play with bold colors and prints. Subdued and understated are not words paired with these loud and long jackets.
#5 Vintage Puffer
The vintage trend is everywhere. Influencers from around the world are seeking for these '90s looking styles to take the best Instagram pictures. So, if you're into grunge outfits, you should definitely consider vintage-styled puffer jackets.
#6 More Puffer Jacket Outfits
Not enough? Well, here are even more good looking puffer jacket outfits for you to copy in 2020.
This concludes our article on puffer jacket ideas to wear in 2020. If you want more fashion tips & tricks, you should take a look at these 25 Grunge Outfits to Copy in 2020 or at these 30 Winter Outfit Ideas to Kill It in 2020.