More than 20 years after its first release, the Air Max Triax 96 "camo" marks its return in 2020. This time the sneaker sports a military-inspired makeover. Here's a complete look at the shoe.
Air Max Triax 96 Camo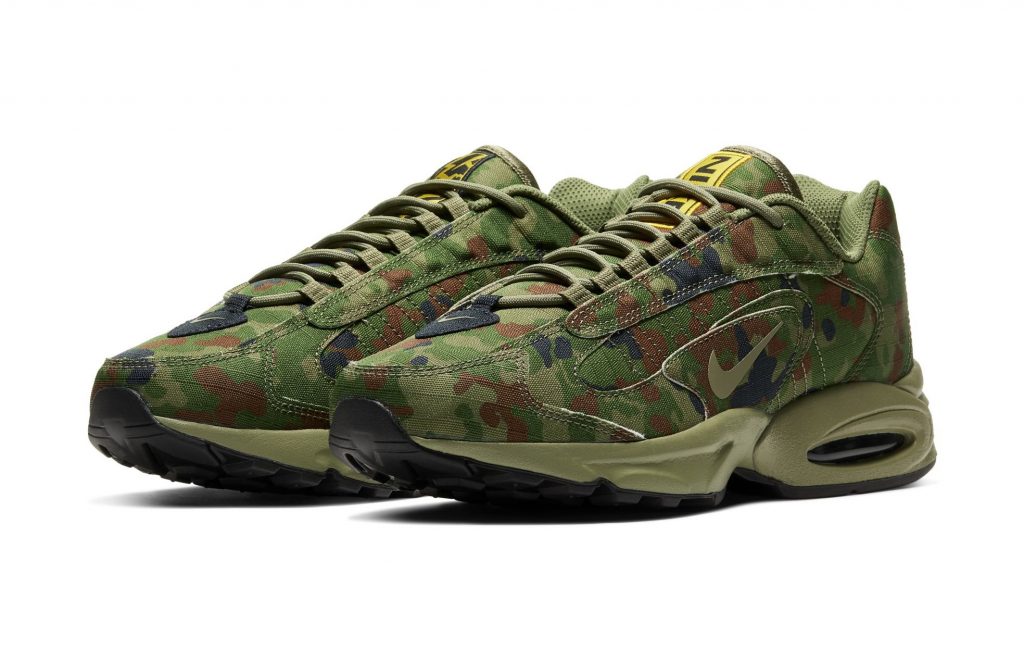 After the release of the "Voltage Purple" iteration in January, Nike is back with a military makeover of the iconic silhouette. Signing slender curves, the shoe is presented in a frogskin camo print. Shades of brown and black are mixed with different shades of green.
The retro silhouette is surprisingly very trendy. So, it doesn't frankly need to multiply efforts to attract the eye.
Sneaker Details
In terms of details, the shoe is adorned with rich shades of brown, forest green, light green and black. All these "military" colours are accented with touches of yellow, silver and red.
A yellow "Nike" patch is stamped over the padded tongue and offset by round green laces. At the back of the shoe, two silver-toned ovals are placed above a black rubber patch logo, complemented by a tiny red highlight.
Most of the body is tinged in camo, but details like the light green Swoosh at the lower side panel and the spade-shaped overlay at the throatline add some interesting accents to the silhouette.
Take a complete look at the Nike Air Max Triax 96 Safari in the gallery just below.
[wp_flickity id="174″]
Release Date
The Air Max Triax 96 "Camo" will be available on March 16, on OVERKILL's website for $168 USD. The release will take place at 6:00 AM EST.
Stay tuned for more sneaker releases and don't forget to follow us on social media.
While you're here, the Nike Dunk Low "Kentucky" & "Syracuse" are set to release this weekend. Both sneakers pay tribute to Nike's initial "Be True To Your School" Dunk pack, released back in 1985.