Nike is about to add another sneaker to its "what the" collection, the Air Force 1 What The NY! The upcoming shoe features bold references to the city that never sleeps.
Air Force 1 "What The"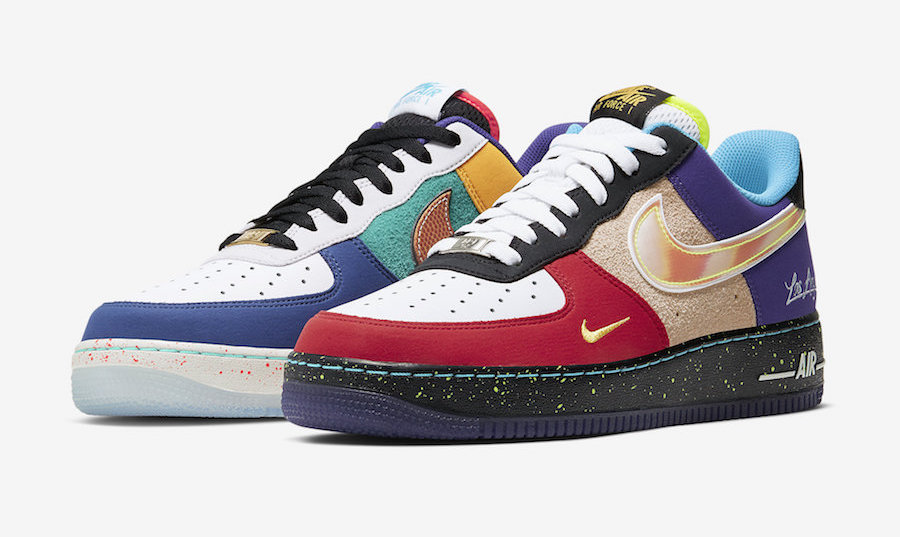 Nike continues its series of "What The" sneakers after a previous release of the Nike Air Force 1 Low "What The LA". The pair which dropped out on October 1st, 2019.
The "what the" collection is defined by mismatching themes and assembling popular colorways into one.
Again, the latest model to get mixed-and-matched is Nike's ever-popular Air Force One. But this one takes its inspiration from New York instead of LA.
Air Force 1 "What The NY" complete look
Standing toe to toe with the Air Force 1 Sneaker "What The LA" is one made just for NYC. Of course, each material and colorway used is a sort of reflection to New York and what makes it one of the greatest cities in the world.
While one heel tab has an orange ribbed print that you'd normally find on a basketball, the other one features a teal hue that immediately brings to mind the Statue of Liberty. There are also Knicks-inspired colors found on the right foot's heel and Yankees-inspired pinstripes on the same shoe's lateral panel.
Finally, to make it official, you'll find "NEW YORK" proudly graffitied onto the insoles as well as the heels of the shoe. It completes the sneaker inspired by the "Big Apple" city.
Like rap king NAS would say, "It Ain't Hard To Tell" who these sneakers were made for…
Take a complete look at the Nike Af1 What The Ny in the gallery just below!
Release Date of AF1 "What The NY"
The Nike Air Force 1 Low "What The NY" is set to release on October 17, 2019. You will be able to purchase those new sneakers at selected retailers as Finish Line, Foot Locker and, of course, on Nike.com.
Pinterest