Everyone wants a pair of Yeezy sneakers. But, few can actually buy them because of their high price. That's why, a former Yeezy designer decided to launch her own brand, ILYSM, and offer Yeezy-like sneakers at an affordable price.
The Yeezy Hype
From Kid Cudi and Teyana Taylor to Kim Kardashian, a lot of fashion influencers rocked Yeezy sneakers over the years. This really brought hype to Kanye's brand which saw its prices rise tremendously on the resale market.
Although this may be a little less true in late 2019, you still need to spend considerable amounts to get yourself a pair of Yeezy. And that's because these shoes are still exclusive to select retailers and made in limited quantities.
However, a new brand is making its first step into the Yeezy world with affordable sneakers. This may be your chance to rock the Yeezy style without breaking the bank.
ILYSM Brand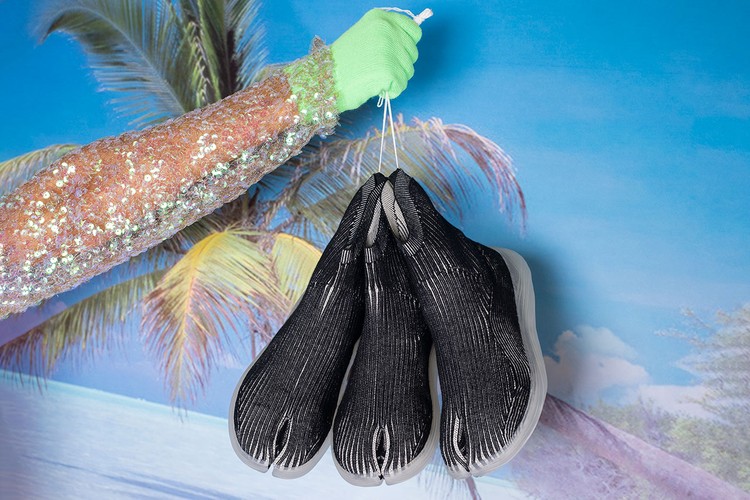 Former junior YEEZY designer Sara Jaramillo co-created a new footwear model. The sneaker is launched under the label of her new brand called ILYSM. Self-described as a "non-conventional platform to launch merch and projects".
ILYSM aims to present a first offer that succinctly summarizes its vision of the world. It's the creative blend of Jaramillo and Alice Wang's designs that created this durable tabi-inspired shoe. Of course, offered at an affordable price.
Affordable Yeezy Tabi
ILYSM's affordable tabi silhouette isn't so far from the iconic Yeezy model. But, Jaramillo's offering stands out due to its thoughtful construction. Indeed, the pair is crafted from yarn sourced from a mill that specializes in natural and traceable products. Available in white and black, the uppers are specially designed to produce 30% less waste compared to other sneaker models.
That is not all! Each shoe utilizes textiles that blend threads of recycled polyester, viscose, and silk for comfort and durability. Also, a merino wool sockliner is here to reduce the smell of sweat.
Finally, ILYSM offers a pair of white socks made especially to wear with the shoe, which presents a toe separation.
Take a closer look at this affordable Yeezy alternative in the gallery just below!
Release Date of ILYSM affordable Yeezy sneakers
The tabi sneakers will retail for $99 USD and will be available on ILYSM's website from December 10, 2019.
You might want to take a look at the Yeezy Boost 350 v3.
Pinterest