Leggings are a basic piece every woman has in her wardrobe. They are cheap and comfortable, making them a good option for cozy outfits. However, it isn't that simple to wear leggings outside of the sports environment. In fact, it is kind of easy to look cringy when you do it. So, we decided to help you by gathering 5 tips for wearing leggings on the street.
Each of our tips is illustrated with outfits from Instagram's top fashion influencers such as @interiordesignerella, @jenniferxlauren, @helenowen, @fashion_jackson, @kristyjgreen and @blvckd0pe
Wearing leggings on the street
#1 Choose the right shoes
Leggings mean comfort. So, you should always prioritize coziness when you create an outfit with them. Forget heels and opt for sneakers, they will provide a much more casual style.
Nike, Adidas, Vans, and Converse are good brand choices for that. Also, consider going with either black/white sneakers for a simple style or with colorful shoes for a more sparkling outfit.
[wp_flickity id="16″]
#2 Think outside the box
Don't be afraid to think outside the box and be original. There are plenty of legging styles available and it would be a shame not to take advantage of them. Consider trying different colors, materials, and patterns, you might find something that suits you better than the typical black one.
When it comes to thinking outside the box, Aloyoga is the perfect brand. Its purpose is to help you wear leggings beyond the studio and into the street.
[wp_flickity id="17″]
#3 Choose the right legging material
Selecting the right legging material is quite easy. In fact, simply think of it like regular pants.
Opt for leather material to lean towards a more chic outfit. Or, stick with regular cotton & polyester for a cozy everyday style. Note that there are other types of materials like Nylon and Lycra that might be fun to play with.
[wp_flickity id="18″]
#4 Pair it with oversized tops
While wearing leggings with tight tops might be a good idea to go to the gym, you will want to do the opposite on the street. In fact, we recommend pairing leggings with an oversized top to create a good looking street style outfit.
Opt for a bulky vintage tee in summer and an oversized sweater or hoodie in fall/winter. This way, you can take advantage of your leggings every season.
[wp_flickity id="19″]
#5 Always go high-waisted when wearing leggings on the street
Another point not to forget when choosing your leggings is the fit. You will always want to go with a high-waisted cut. It advantages women's body curves to a whole other level.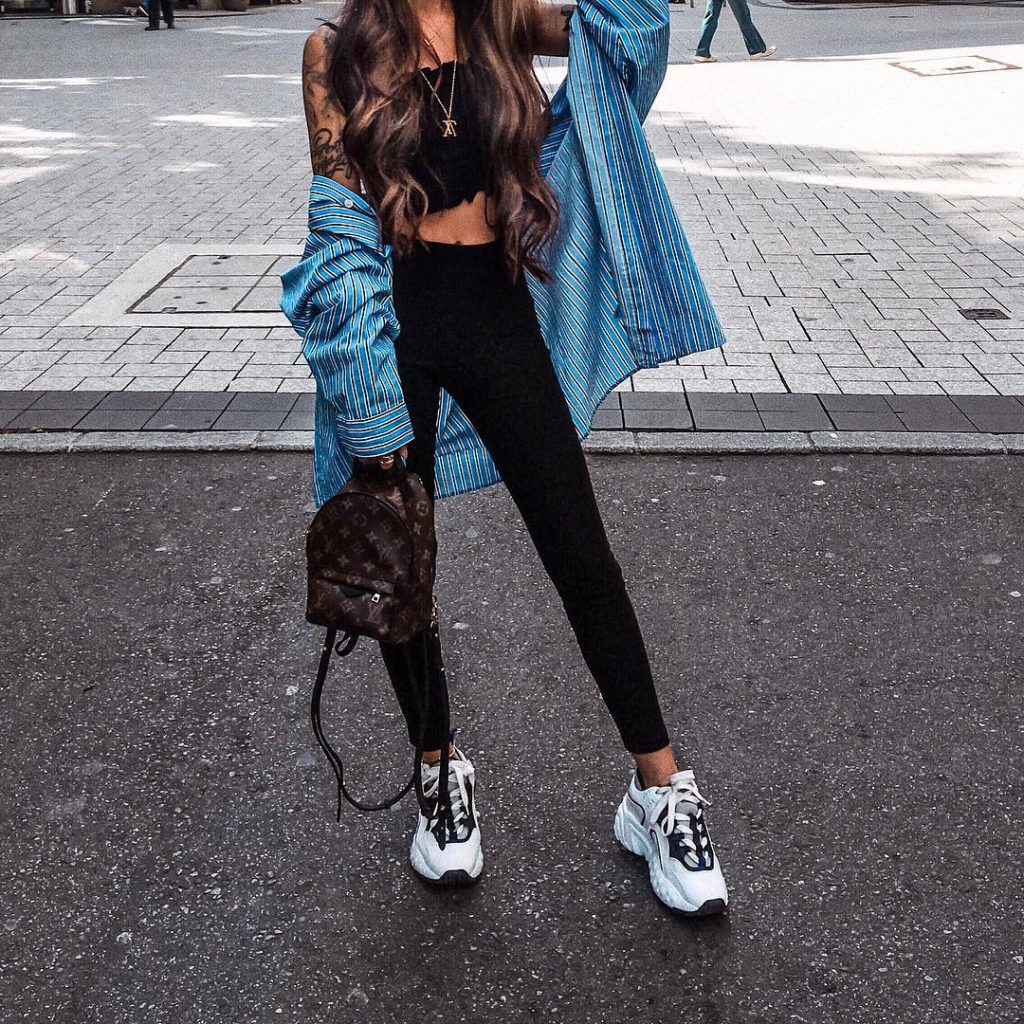 Those were our 5 tips to wear leggings on the street! Don't be afraid to think outside the box, fashion is always about being your unique self.
If you want more fashion tips for winter 2019-2020, you might want to take a look at 5 ways to wear shorts in Winter.