Gucci proves its streetwear attitude with a collection inspired by the '70s. Featuring 50 pieces for both men and women, the capsule completely reinvents the iconic GG monogram. Here is a full look at the Gucci Psychedelic Collection.
Gucci Psychedelic Collection
Since he took over the reins of the Italian fashion house in 2015, Gucci creative director Alessandro Michele transported the brand's image towards a distinct high-end streetwear approach.
Continuing in this direction, the new Gucci Psychedelic collection reinterprets bold accessories and ready-to-wear series of the '70s. Playing with surreal imagery and rich colors, the capsule introduces a new take on Gucci's interlocking GG monogram. The latest arrives as a multicolor stars pattern.
The campaign for the new psychedelic collection features models dancing in a disco-esque club with strobe lights, disco balls and vibrations from the '70s.
Details of the Collection
The collection includes an expansive selection of ready-to-wear items, accessories, and footwear all boasting the GG star monogram. In total, there are 50 pieces featured in the collection.
In terms of clothing, the capsule collection includes jackets, hoodies, shirts, t-shirts, pants, and shorts. There is even a standalone Assasin's Creed looking hood.
[wp_flickity id="122″]
Gucci has also designed a multitude of bucket bags, travel luggage and small leather goods that include an iPhone case.
[wp_flickity id="124″]
As for shoes, colorful sneakers and slides are also part of the collection.
[wp_flickity id="123″]
To round off the collection, Alessandro Michele has also created a special GG basketball to honor the NBA All-Star Weekend which will retail for approximately $1380 USD.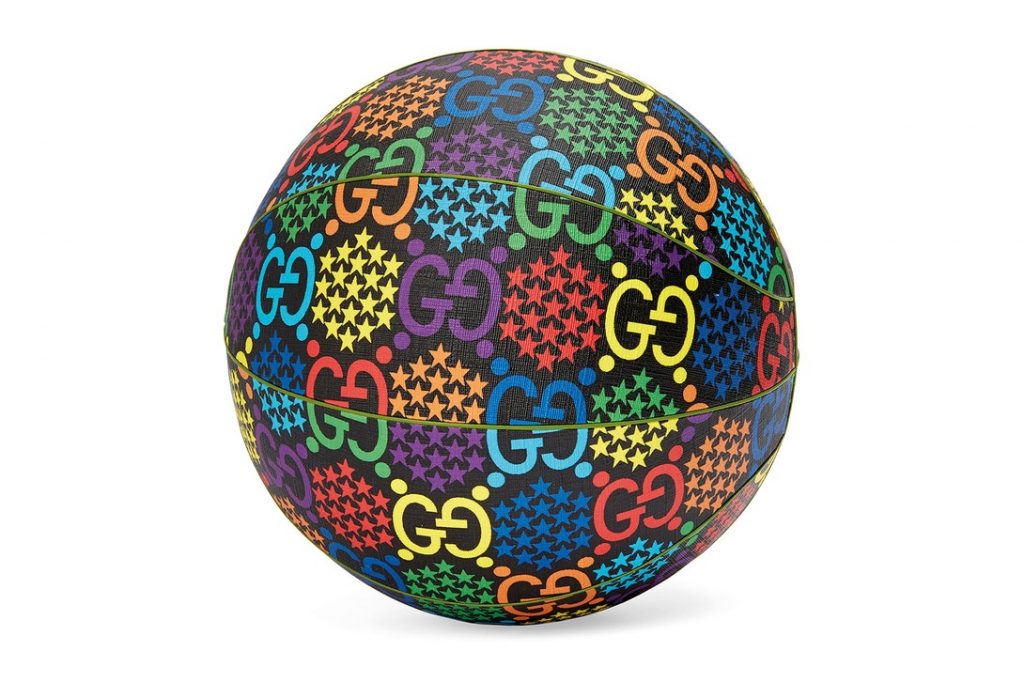 Buy the GG Psychedelic Collection
Scroll through the gallery above for a complete look at the Gucci GG Psychedelic Collection. All pieces are available on Gucci's website or at the brand's Chicago pop-up running from February 14 to March 2.
In the meantime, a new Gucci AirPods Case is available for $250 USD.