In order to celebrate the 2020 St. Patrick's day, New York brand Alife unveiled the "Lucky" collection. Here's what the capsule looks like and where to buy it.
Saint Patrick & Alife
Around the world, St. Patrick's Day celebrates Irish heritage and culture. This means that we have to honour the icons of Ireland – greenery, shamrocks, music and beer.
In order to celebrate this iconic feast, New York's Alife unveiled a new capsule evoking the spirit of St. Patrick's Day. Dubbed "Lucky", the collection includes a festive hoodie and sneaker combo featuring the brand's notable Everybody Hi silhouette.
The Alife Everybody Hi "Lucky" sneaker, already available on the brand's web store, well represents the St.Patrick' theme. Indeed, this iteration includes green and white leather overlays along the upper as well as a striking shamrock applique stitched on the lateral side.
The shoe also includes other features such as exaggerated toe caps, perforated toe boxes and green suede mudguards. An alternate set of laces is also delivered with the sneaker.
Alife branding details arrive in black and white on the heel and tongue. And an Alife/Shop Art Museum hangtag also hits the shoe. 
Aside from the sneaker, Alife also dropped the Lucky Registered Hoodie which is also perfected to celebrate Saint Patrick's Day.
The hoodie arrives in forest green and features a clean embroidered Alife logo on the front. The hoodie is accented with tonal shamrocks throughout and features a subtle emblem on the sleeve.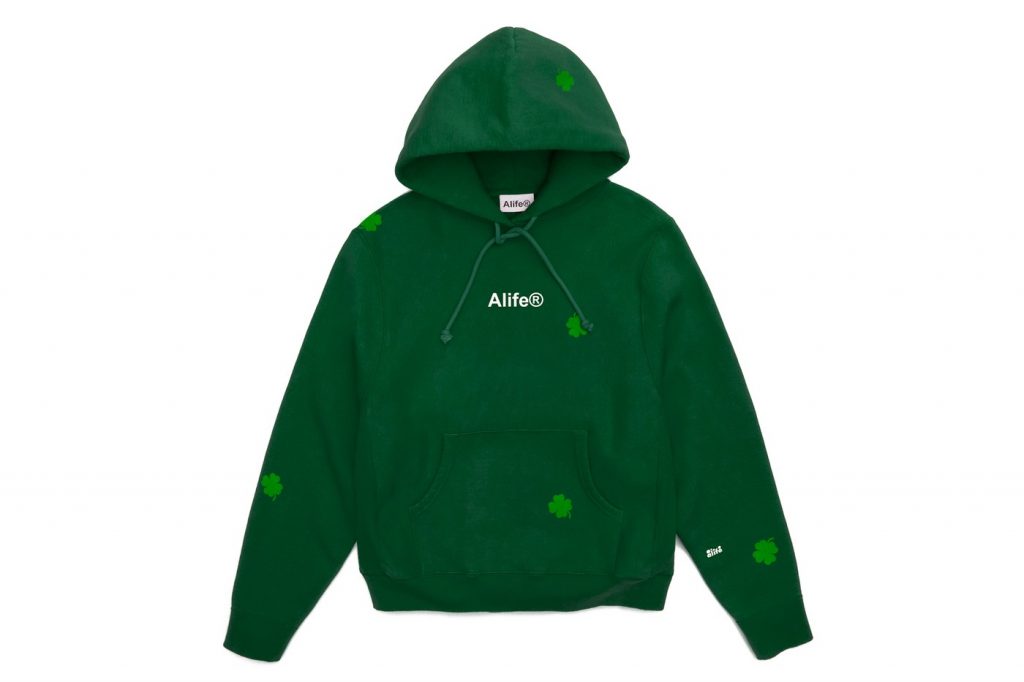 Buy the Alife "Lucky" Collection
Both of the St. Patrick's Day-themed footwear and sweatshirt are currently available at Alife online and in-store locations. The hoodie is priced at $138 USD and the Alife Everybody Hi 'Lucky' sneaker at $120 USD.
In the meantime, Montreal's Harsh Weather inspired the Off The Hook x Reebok Electro 3D 97.