Never lacking in imagination, Vans decided to travel back in time and revive the Egyptian symbol, Ouroboros. Here's a full look at the Vans Ouroboros Sneaker Pack.
Vans Egyptian Ouroboros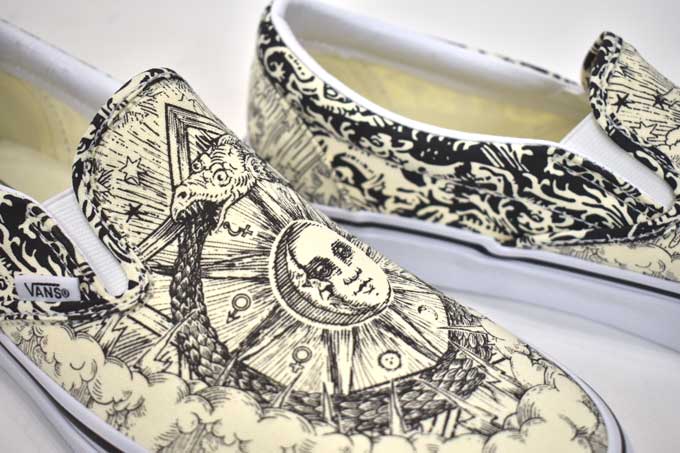 Vans is well known for using various artworks on its sneakers. For example, last year, the brand launched a collection inspired by Frida Kahlo's famous paintings. And now, the brand taps Ouroboros, an ancient Egyptian symbol depicting a dragon eating its own tail.
The ouroboros, which is actually a circle, is often interpreted as a symbol for eternal cyclic renewal or a cycle of life, death and rebirth.
In this new sneaker pack, Vans has given a mythological twist to the iconic Sk8-Hi and Era silhouettes.
Sneakers Details
The sneakers come with traditional drawings of the sun, moon, stars and lightning. Of course, the ancient ouroboros dragon symbol is at the center of the artwork.
Both pairs take on a traditional Vans colorway of "Black/True White". The Sk8-Hi silhouette combines black suede with the off-white-hued canvas.
[wp_flickity id="201″]
The Era uses graphics across its entire upper, splitting the ouroboros print on its mid panels. In addition, mythological drawings hit the toe and heel components.
[wp_flickity id="202″]
To finish the look of each pair, a crisp white sole unit and a red Vans logo appear on the sneakers.
Take a close look at the Vans Sk8-Hi and Era Ouroboros in the galleries above.
Buy the Sneakers Pack
Both pairs of the Vans Ouroboros Pack are currently available on Vans.com. The Sk8-Hi retails for $90 CAD, while the Era is priced at $70 CAD. Both pairs are quite affordable.
As always, stay tuned for more sneaker releases and don't forget to follow us on social media.
While you are here, you might want to take a look at Vans honouring Japanese Art with the "Origami Pack".