Billy Porter wears whatever TF he wants to every event he attends and he makes sure it sends a message.
Short Bio
Billy Porter is a 49 years old Broadway theatre performer, pop singer, and actor. His career really took a step up in 2012 when he played the role of Lola in Kinky Boots. It led him to win the Tony Award for best actor in a musical. He currently stars in the television series Pose for which he received a Golden Globe Award nomination.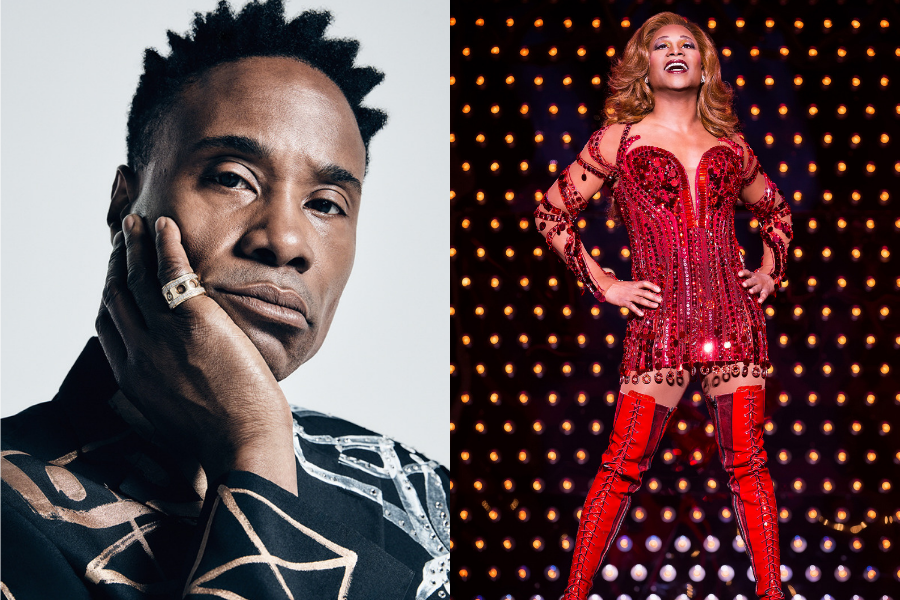 Billy Porter & Fashion
The openly gay actor married to Adam Smith wears provocative fashion with outrageous confidence. In fact, he always rocks the most unpredictable outfits, which inevitably make the news on the next day. He uses his outfits and his media attention to tackle social causes such as bullying and women's rights. For the whole LGBT community, Billy is an inspiration of confidence and acceptance.
"I want to flip the question of what it means to be a man. This question of masculinity, this sort of microscope of heteronormative masculinity that we are very often held up to, especially as leading men, needs to be shattered. You know, it's toxic and I'm over it and I've lived it and I'm not doing it anymore." – Billy Porter to NYTimes

"Putting on the dress, playing Lola, made me feel the most masculine and grounded that I've ever felt in my life because I was finally not apologizing for anything." – Billy Porter to NYTimes

"For his stylist, Sam Ratelle, getting looks together is as much an opportunity to defend equal rights as it is a chance to look good for step and repeats.  The stylist plays a crucial role in representation as gender non-conforming people are becoming more visible in the media." – Forbes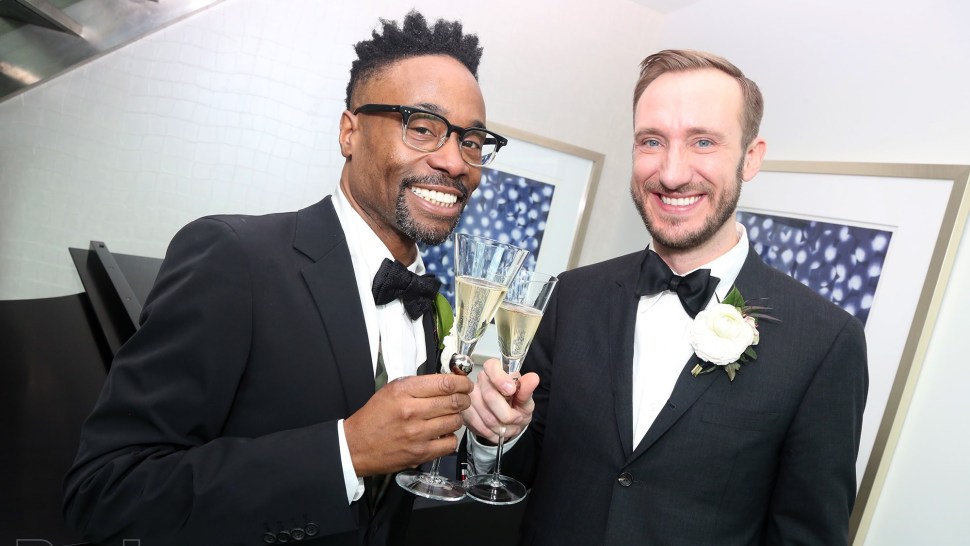 10 provocative styles of Billy Porter
#10 Golden Globes 2019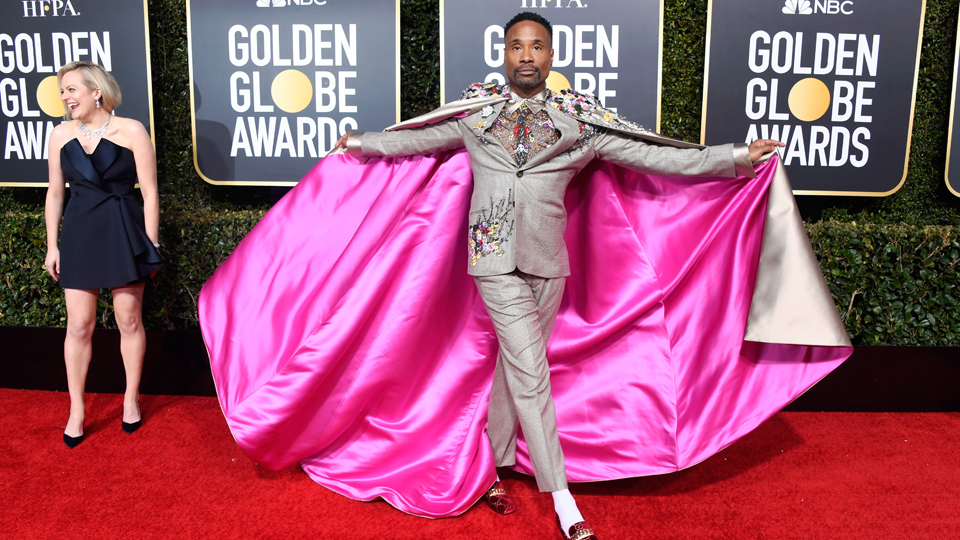 Billy Porter wore a custom embroidered suit and cape from Randi Rahm to the Golden Globes 2019. This particular outfit was created to make a statement for transgender rights, fighting the controversy occurring in Trump's government.
Billy showed up to the 2019 Costume Institute Ball as the Sun God, carried in on a gold and velvet litter hoisted by six shirtless men. He had no difficulty nail 2019's Met Gala theme "Camp".
"I am a theatre baby, and I do understand camp. I am camp." – He said to Times magazine
#8 Oscars 2019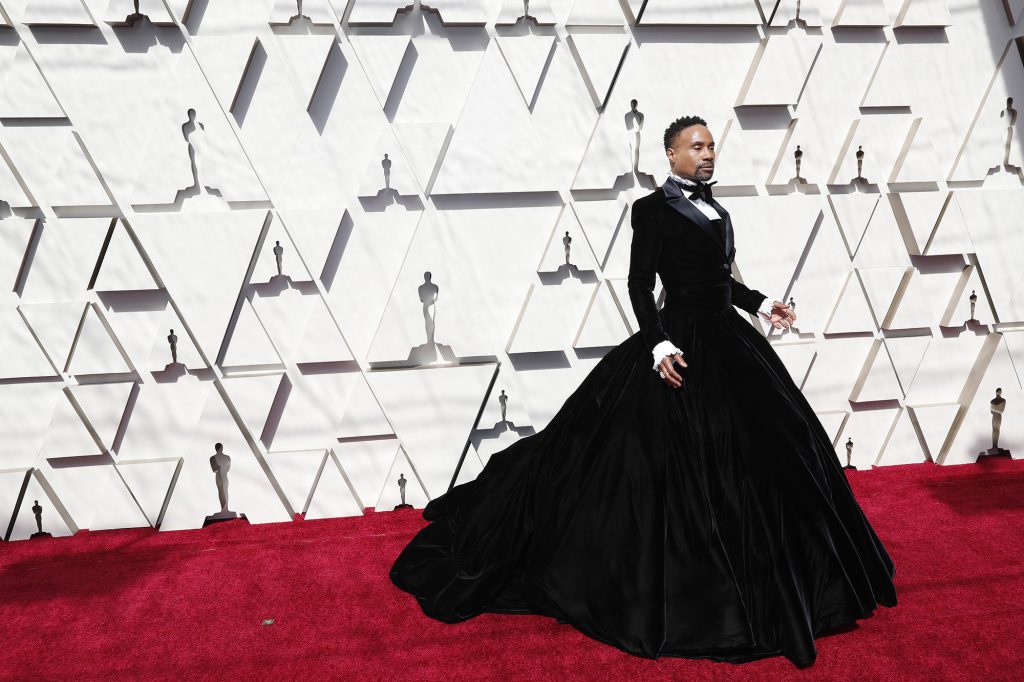 The outfit Billy porter wore on the Oscars 2019 red carpet was meant to defend the fact that men can be comfortable outside the "masculine" norms that guide most men's runway choices.
"It's the very thing I have run from my whole life. When you are black and gay and you grow up in the church in the African American culture, it's like your masculinity is in question at every turn. But what does that mean, to be masculine? To be strong and powerful? Women wear pants all the time, and nobody bats an eye, but a man puts on a dress and that's disgusting?" – He said to LA Times
#7 AFI awards 2019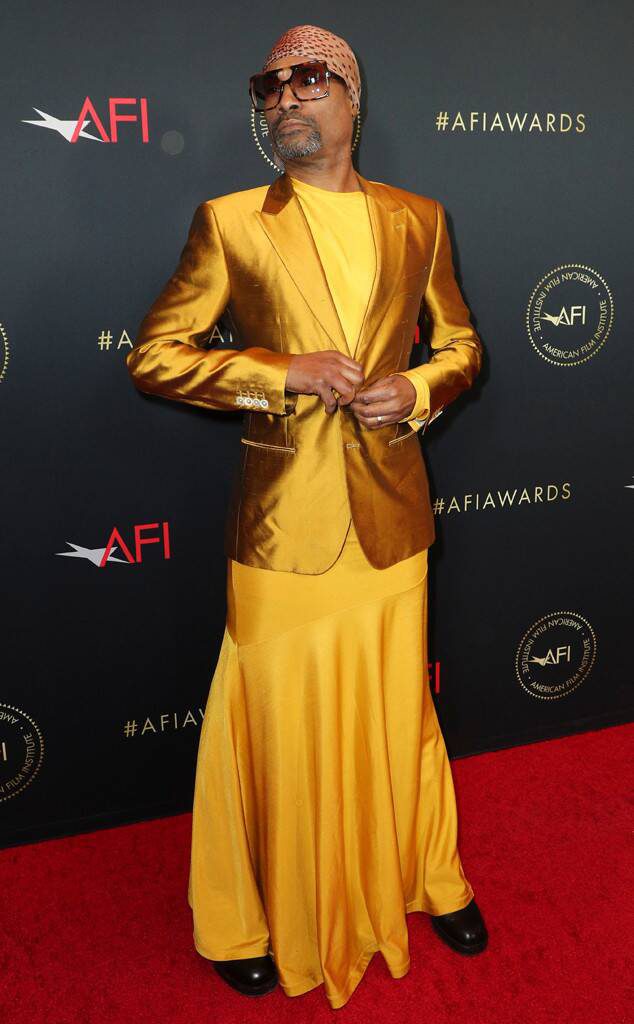 Porter donned a Calvin Klein dress that shined as bright as he does. Again, you can see that he advocates for masculinity in women's clothes.
#6 Tony Awards 2019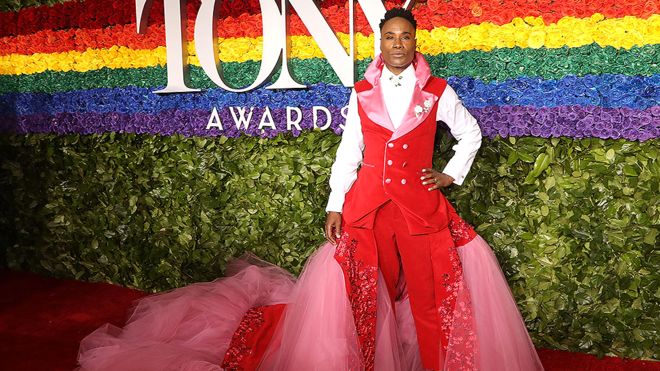 Lately, he showed up to the 2019 Tony Awards wearing nothing else than a diamond-encrusted suit – with a floral train representing a uterus. A creative way to defend women's rights!
"Then, with the embroidery of the uterus design, it was supporting women as well and abortion rights… how much more of a statement can an outfit on the red carpet make?" – BBC
Wait to see him talk about his "Uterus Outfit" on page 3
#5 Critics' Choice Awards 2019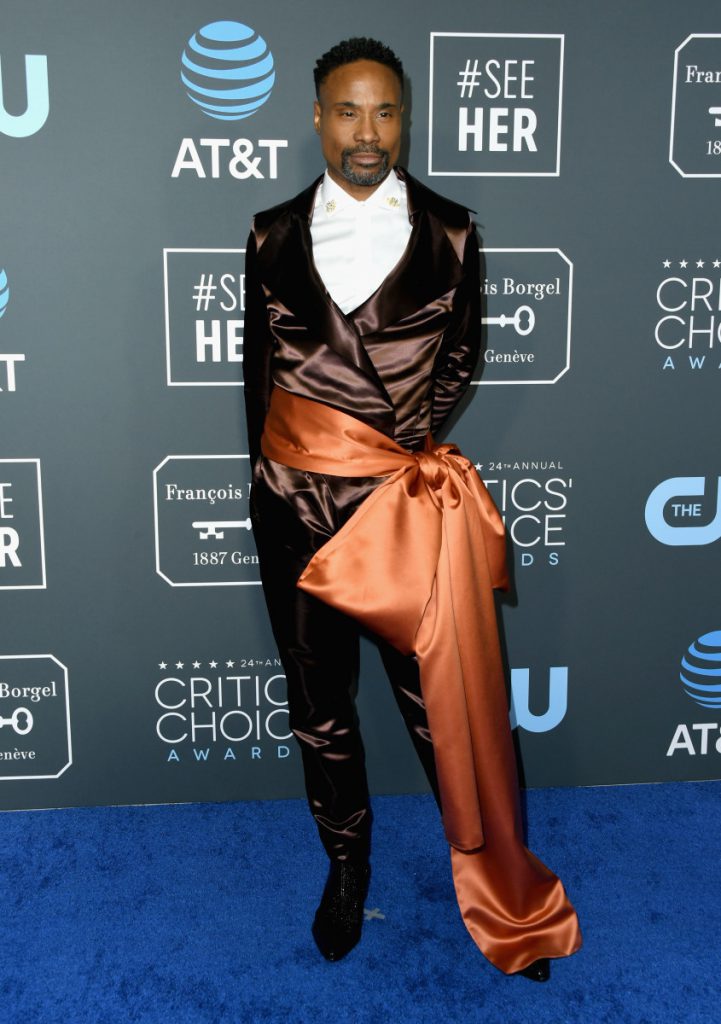 Billy wore a custom Rinat Brodach outfit and Jeffery-West shoes to the Critics' Choice Awards 2019. His outfit was meant to personify a human gift. Not only it looks like it,  but it is also extremely fashionable. Who would've thought?
Continued

on page 2↓