If there's one fashion item that comes back every winter, it's the sweater dress. This comfy piece is always one of the season's biggest hits. So, to help you step up your winter fashion game, we decided to list 6 ways to style sweater dresses.
How to Style Sweater Dresses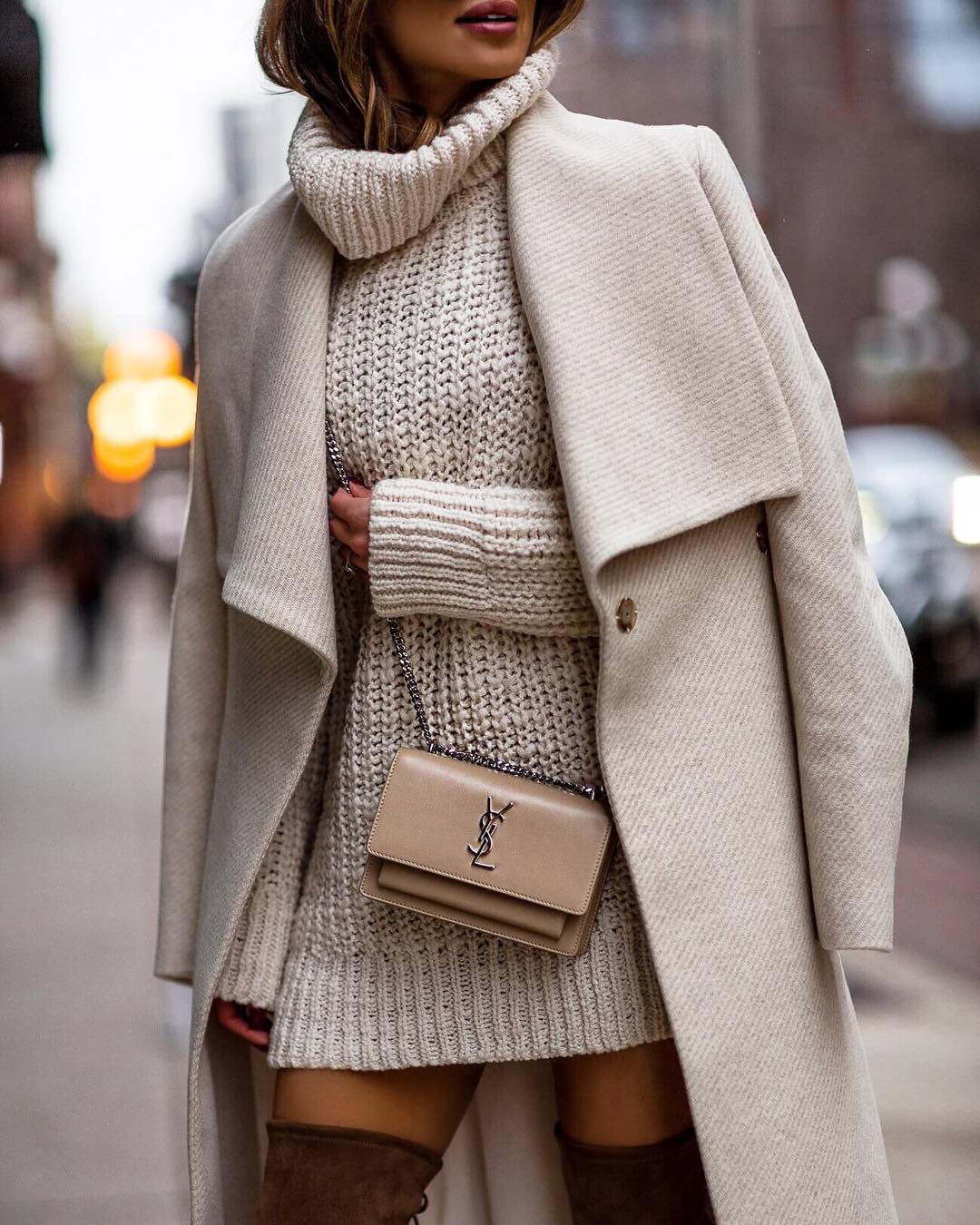 First of all, you have to understand that it is versatility that makes sweater dresses so successful. In other words, it means that you can wear this item with whatever you want and whenever you like. It looks awesome with almost anything.
That being said, sweater dresses can provide several different styles depending on which materials you choose and how you decide to wear them.
So, to help you with your winter style, we decided to gather our favorite ways to wear a sweater dress. By following our tips and tricks, you'll make sure to make the most out of your winter outfits.
#1 Sweater Dresses & Over the Knee Boots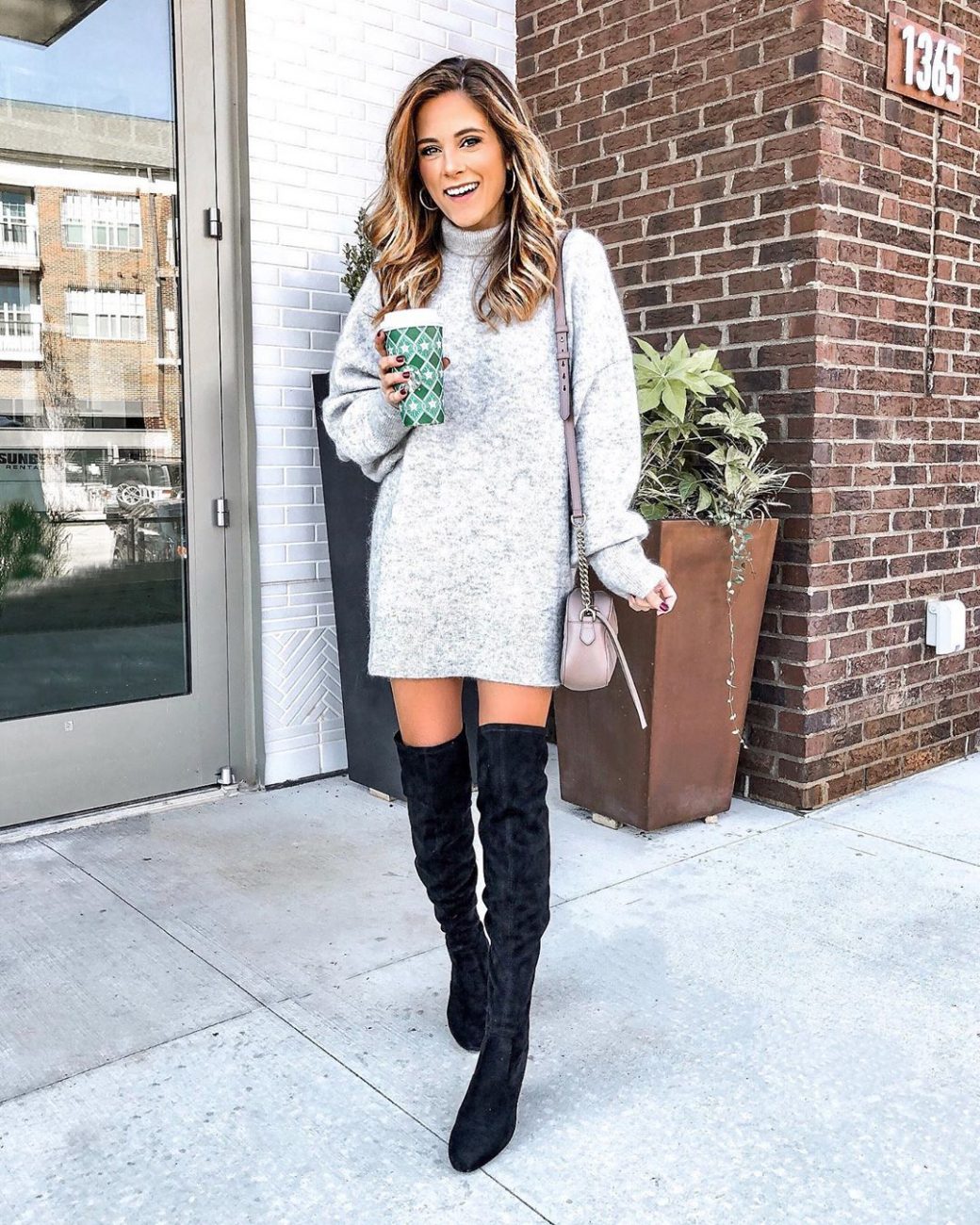 Boots and sweater dresses go hand in hand to give you that casual winter style. If you take the time to look into fashion influencers wearing sweater dresses, you'll realize soon enough that they almost always pair it with over the knee boots. It simply looks awesome when you can show a bit of skin from your thighs.
However, don't forget that you can also pair your sweater dress with ankle boots. While high-cut boots are elegant and classy, low-cut booties will provide an edgier look.
#2 Sweater Dresses & Belts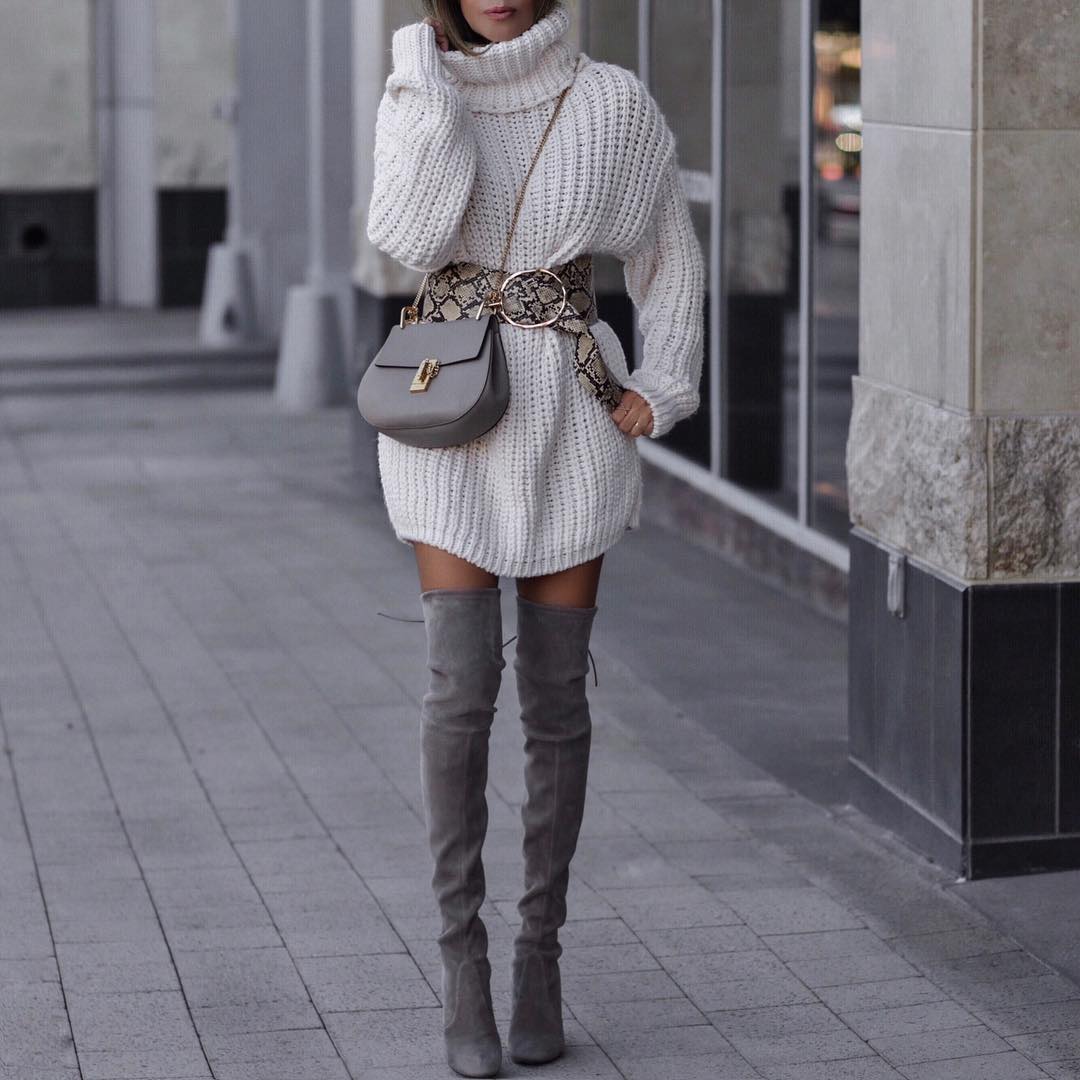 Most knit dresses are loose, straight up and down or rather chunky and hide your waist. If you want to create an elegant outfit, we recommend wearing a waist belt. It'll provide a much more adjusted look.
As most sweater dresses come in monochrome colors, you'll want to use a belt as an accessory to add some spark. So, don't be afraid to go with colorful, chunky ones. The chunkier the knit, the more substantial and wider you can go with the belt.
What's nice about waist belts is that they won't only look great with a sweater dress, but with almost everything else in your wardrobe. It is smart to buy accessories that you will be able to reuse.
#3 Sweater Dresses & Leggings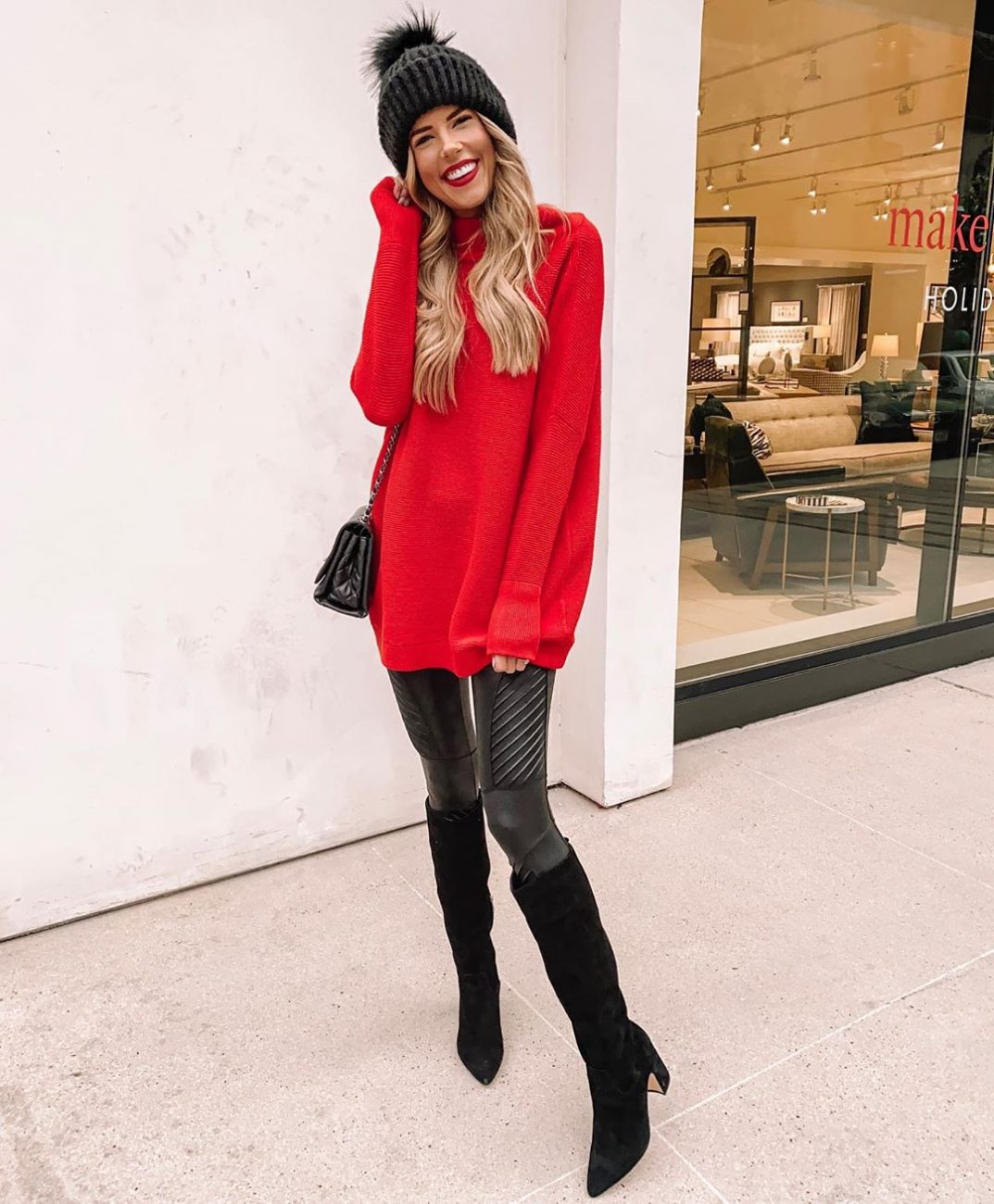 Sometimes, temperatures simply won't allow you to wear your sweater dress with nothing underneath. In this case, all you need to do is add a pair of black leggings or tights to your outfit. 
Leggings will immediately provide the warmth you need on a cold winter day. Don't forget that you can also play with the textures to add a visual effect to your outfit.
#4 Layering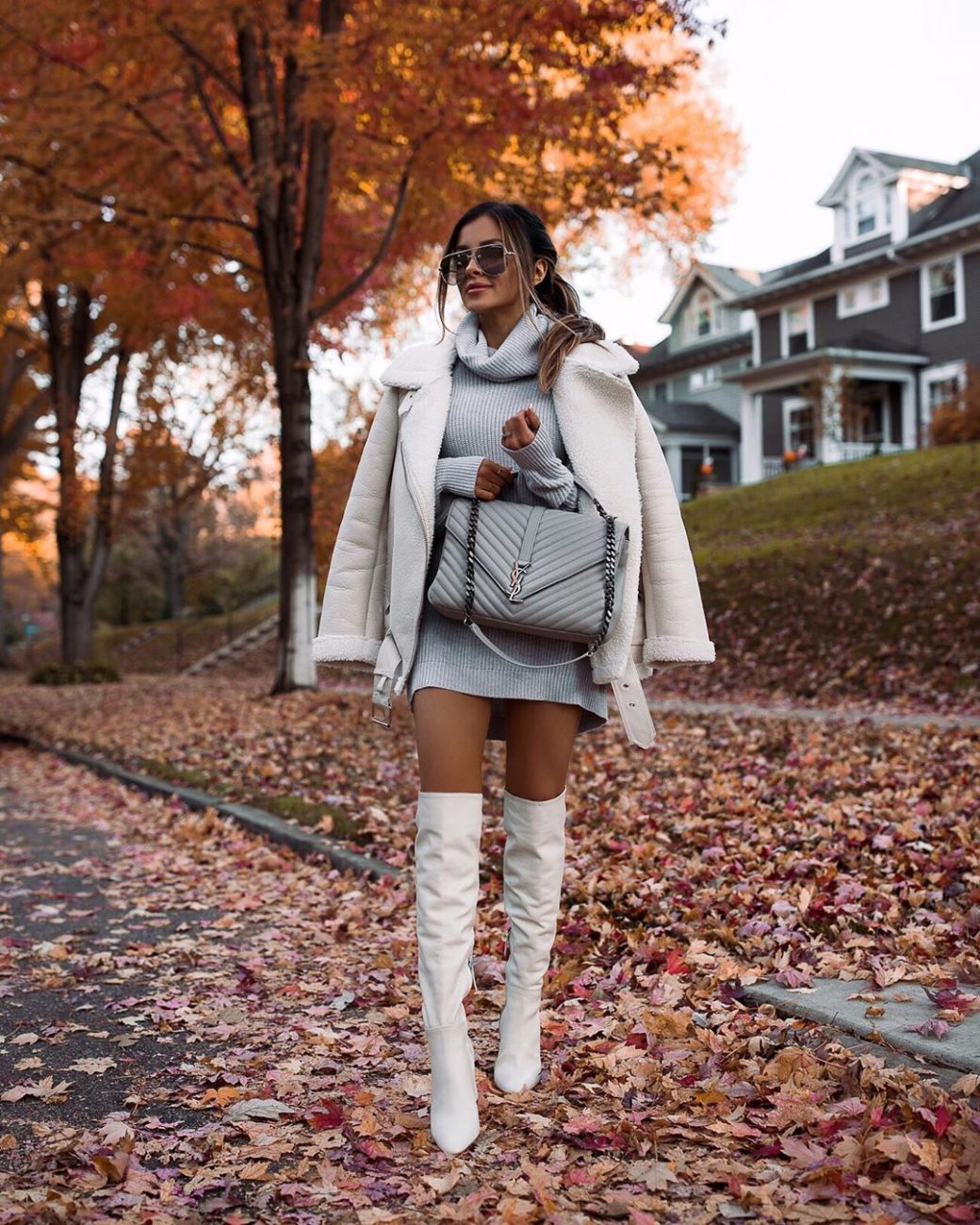 Since you will most probably be wearing your sweater dresses in winter, chances are you'll be pairing them with a coat. There comes the art of layering.
Possibilities are endless when it comes to pairing a jacket and a knit dress. On one side, you can combine short sweater dresses with long trench coats to create an elegant look. On the other side, you can wear knee-length sweater dresses with short leather jackets for a more urban style.
#5 High-Neck Sweater Dresses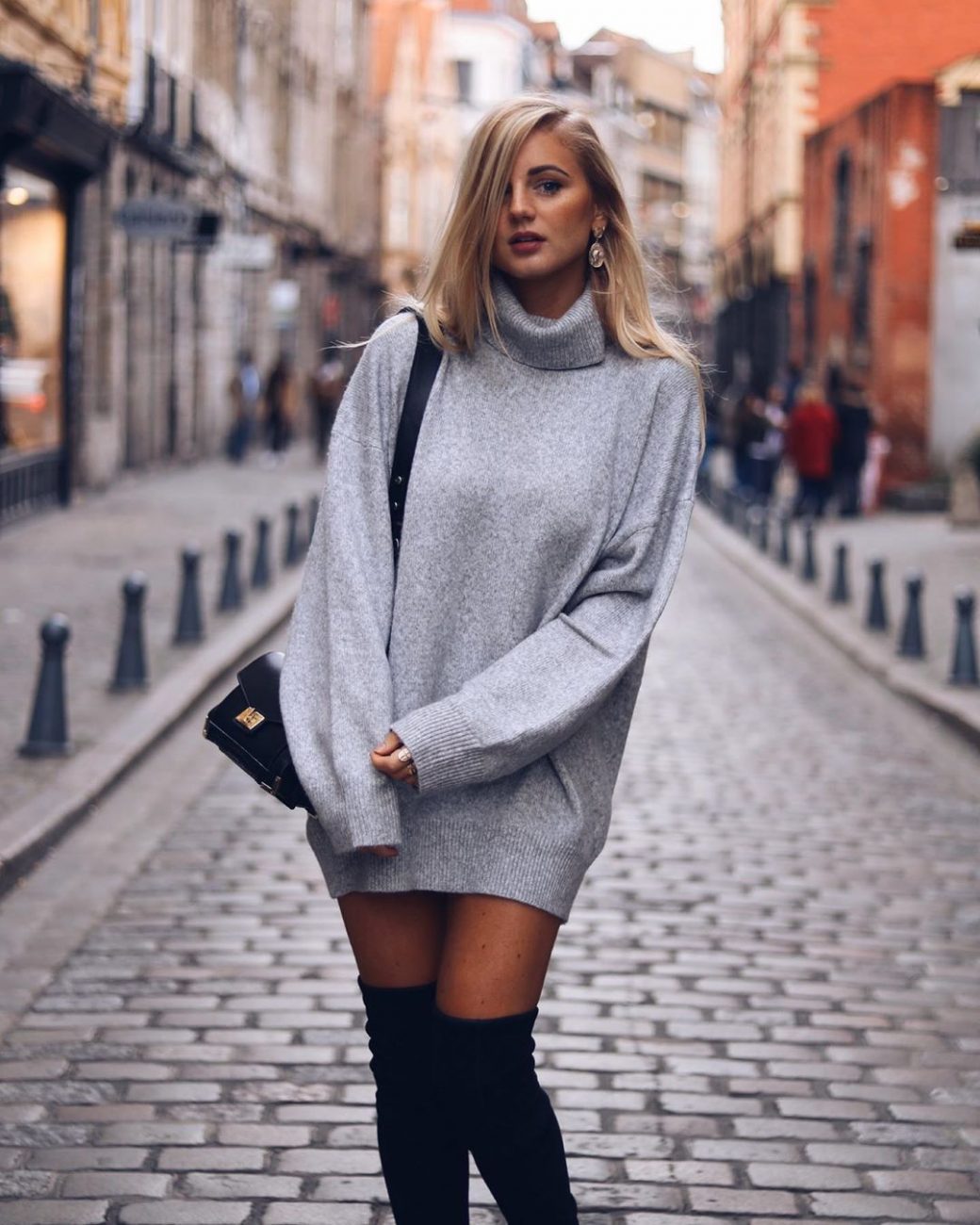 High-neck sweater dresses are hot, in both ways! Indeed, not only they keep your neck safe from the cold winds but also provide this trendy "turtleneck style". Make sure to consider high-neck sweater dresses in your winter shopping.
#6 Colors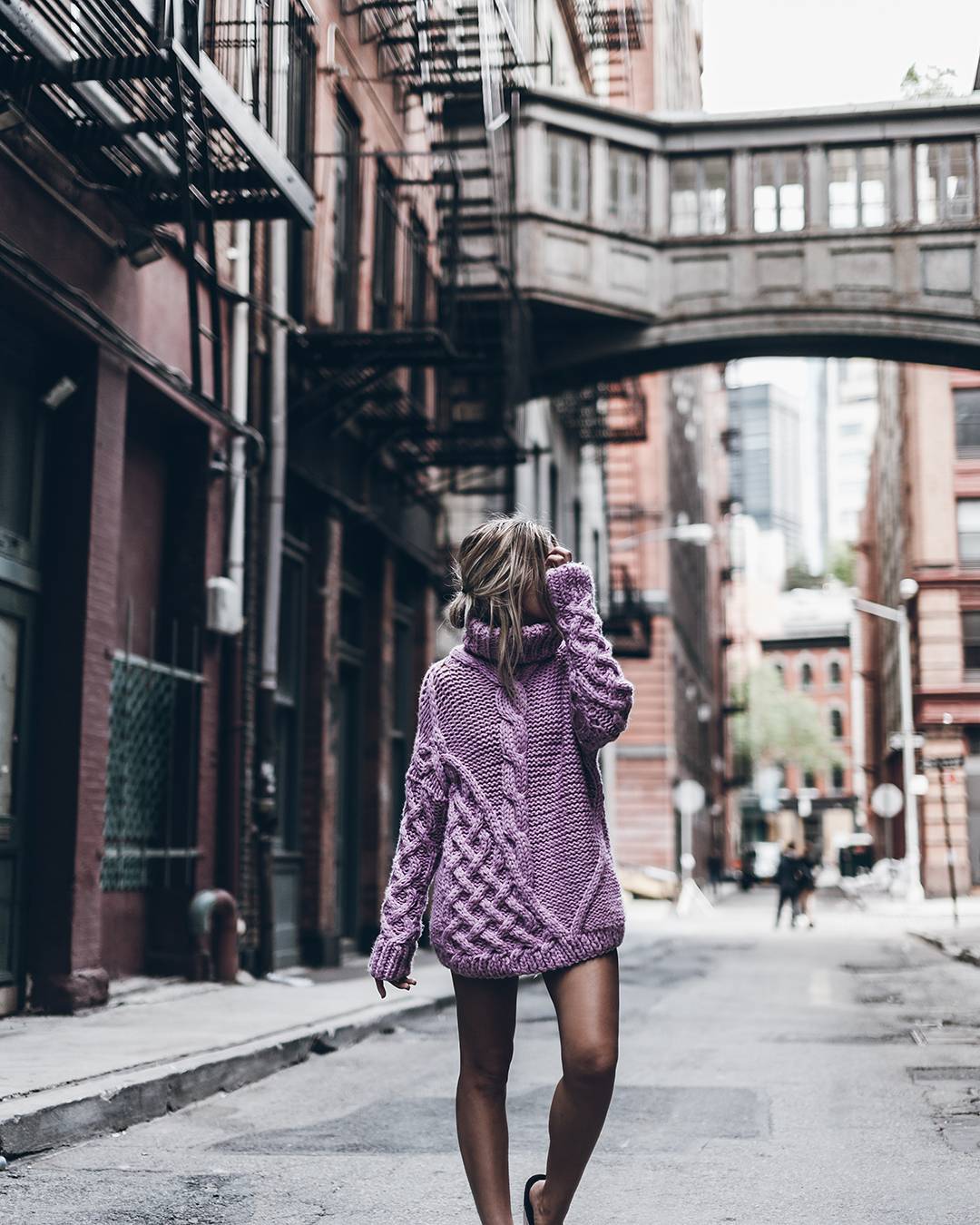 Like we said at the beginning, sweater dresses are easier to style than you might think. There are tons of colors available! You just need to pick the one that suits you best. You might want to consider classic blue, which is the color of 2020 by Pantone.
So, play with colors and don't feel the shame to express your personality through this fashion piece.
Sweater Dress Outfit Ideas
Now that you understood our tips and tricks, here are plenty of sweater dress outfit ideas meant to inspire your winter style.
[wp_flickity id="6″]
Buy your favorite pieces on Lulus.com or Nordstromrack.com!
For more tips and tricks fir this cold season here are 5 ways to wear shorts in Winter!