Airport outfit ideas are hard to find!
We know! But, we've got you covered. We understand how important airport outfits can be for a fashion enthusiast. Thus, we decided to pick our 15 favorite airport outfit ideas to wear in 2019 and gather them in one article!
Before digging into inspiration, let's go over some tips and tricks about airport outfits
Why bother creating trendy airport outfits?
First, because airports are the perfect environment to capture an "Instagrammable" moment. Every influencer on Instagram has a picture waiting for the take-off. Plus, thinking of a traveling caption is super easy. Cliche? Maybe, but who cares?
Second, you might pass by someone you know! If you want to be recognized as a trendsetter in your everyday life, you have to make a fashion statement everywhere you go. Thus, creating trendy yet comfortable airport outfits is a must.
Third, while this may sound cheesy, airports are an underrated place to meet a good looking guy. In fact, as you wait in line it is extremely easy and not awkward at all to start a conversation with someone. Plus, you already share an important common interest: Traveling!
Key factors to consider when searching for airport outfit ideas
Comfort: This is definitely the most important thing to consider. As you will be seating on a plane for many hours, the last thing you want is to be uncomfortable in your clothes.
Temperature: Wherever your destination is, planes tend to be cold. Don't think of your outfit depending on the weather at your destination, you might regret it. It is smarter to either create a layered outfit or to bring some clothes in your carry on. You'll find it extremely unpleasant to be freezing for a 5-hour flight
Trends: If you're reading this article, you're definitely looking for trendy airport outfit ideas
Enough talking, let's dive into the inspiration
15 airport outfit ideas to wear in 2019
1- Blazer & joggers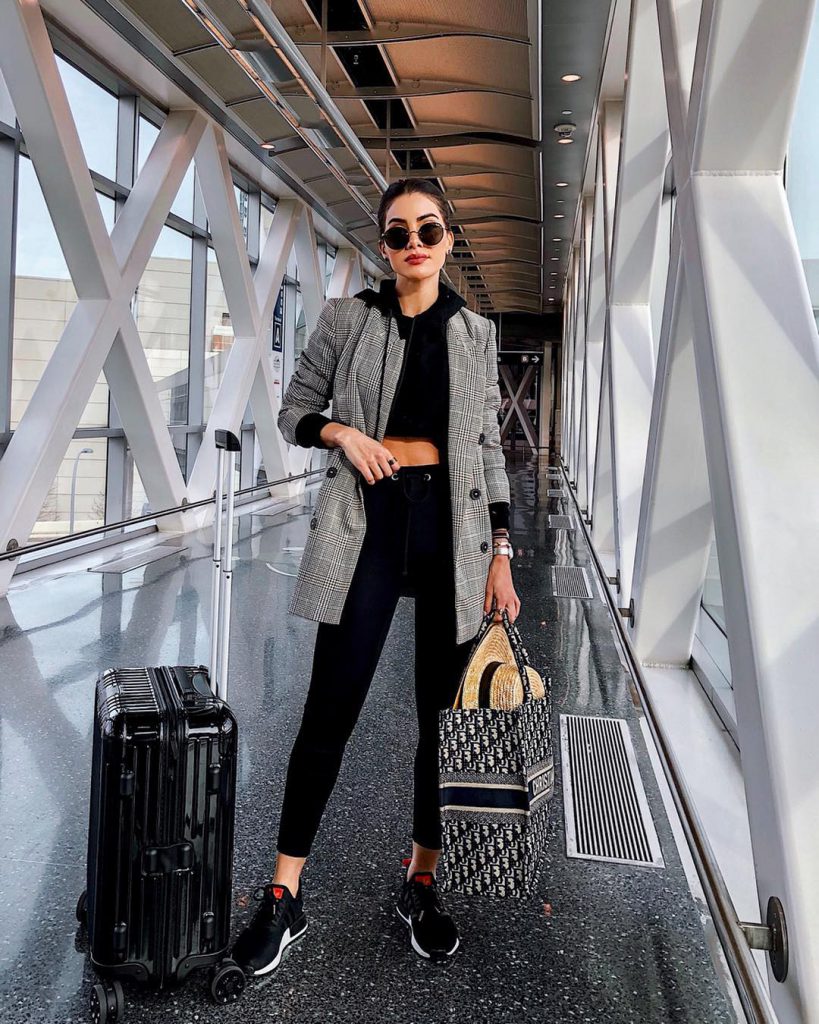 Who would've thought to wear a blazer to the airport? The key factor here is to find a comfortable blazer that you can wear with a crop top. Then, pair it with joggers and some sports sneakers and you've created a trendy airport outfit!
2- Baggie pants & cami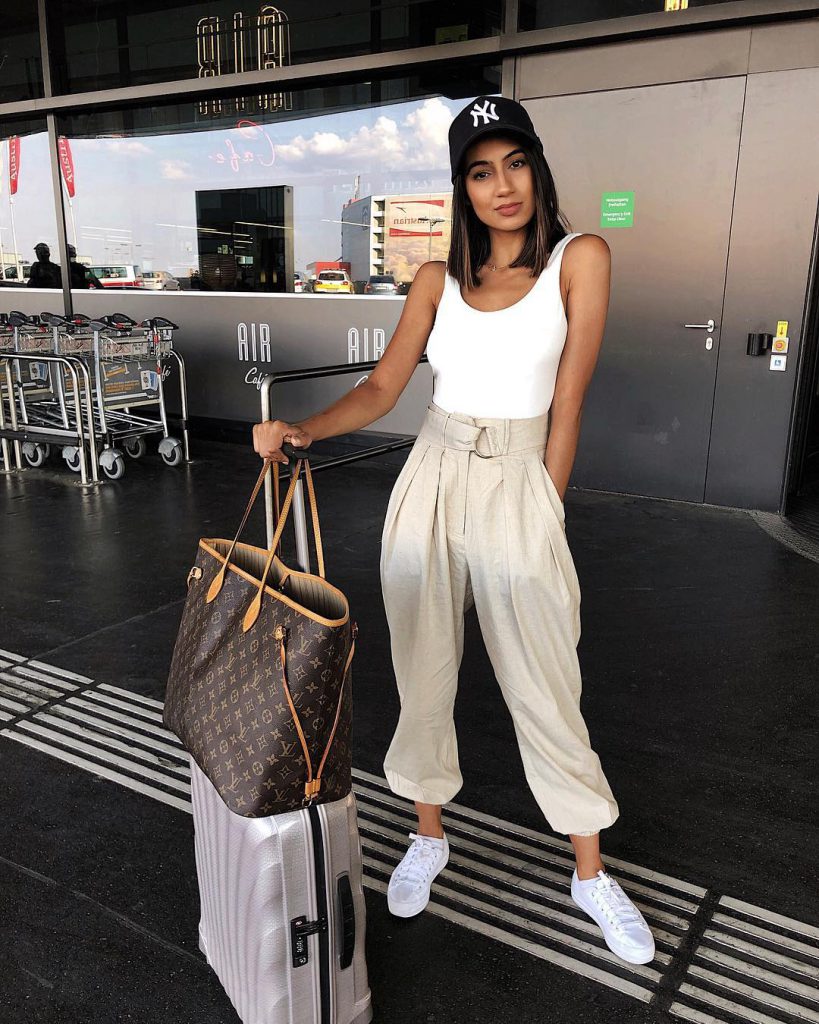 This airport outfit idea looks amazing when paired with a Yankee cap and some white sneakers. If you're lucky enough to own good looking luggage, you'll have incredible Instagram material.
3- Colorful matching set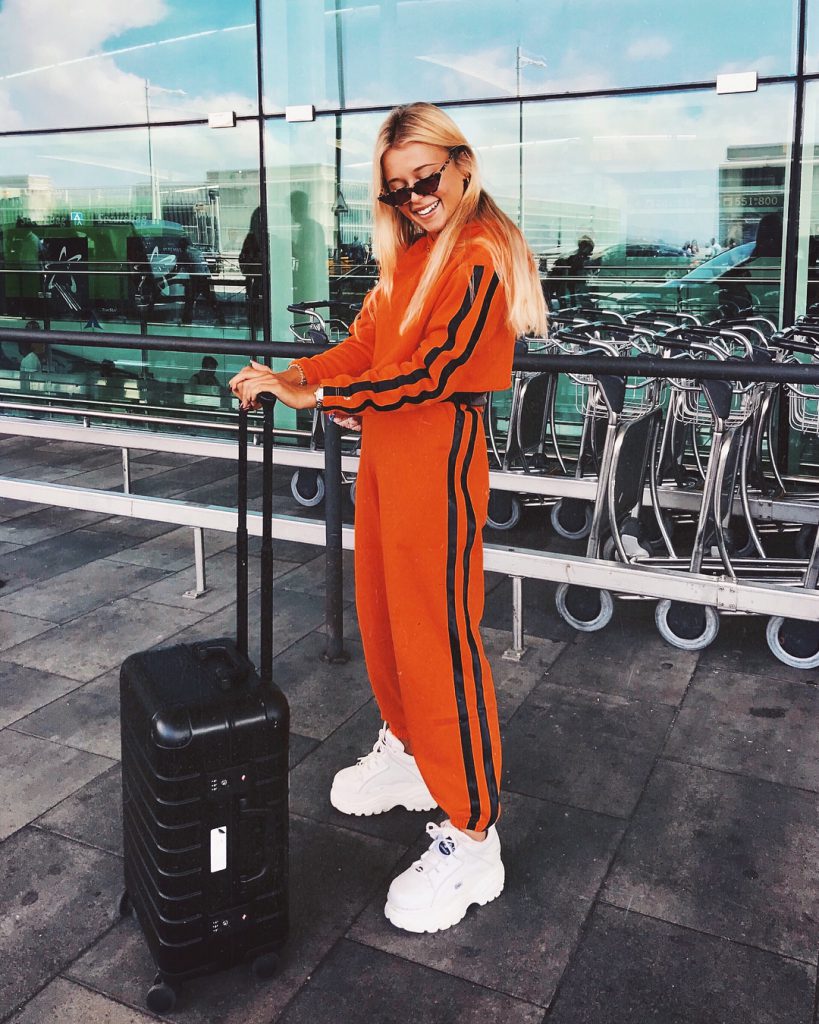 This orange matching set looks comfier than a PJ! If you want to sleep throughout the whole flight while still looking trendy you should try to replicate this outfit. But, don't forget the dad shoes and cat-eye sunglasses…
4- Black leather pants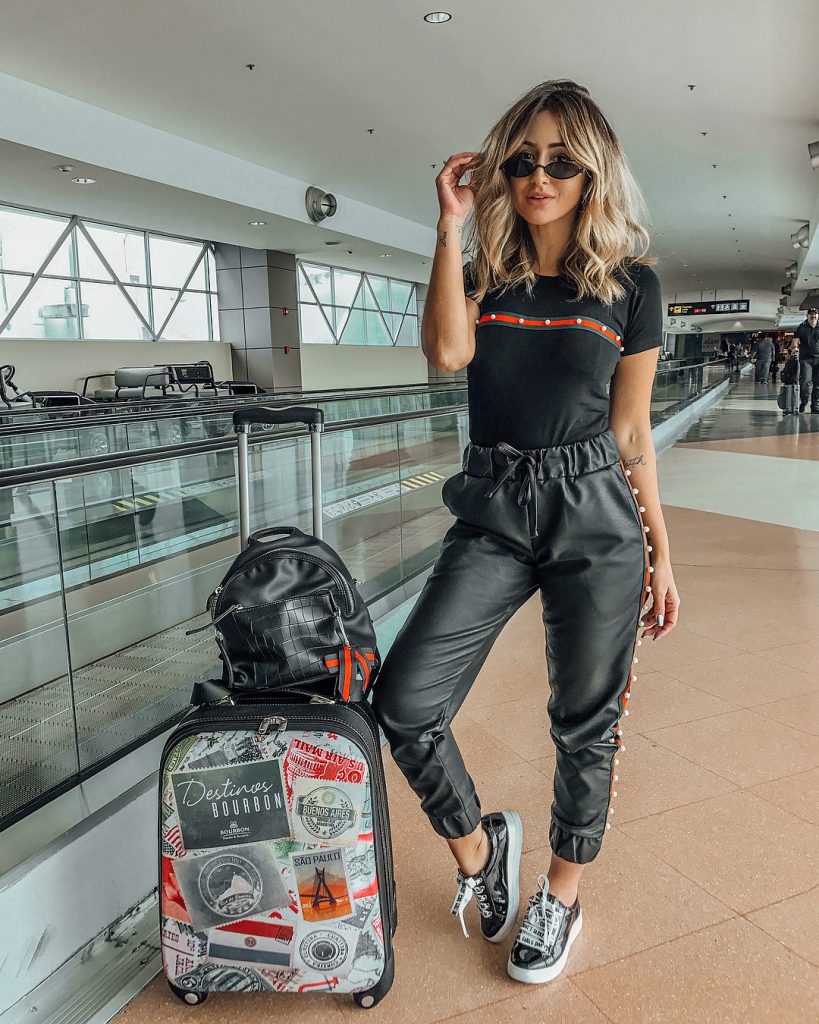 Although this airport outfit idea may not be the comfiest, it is still one of the prettiest. If you want to replicate this chic look, simply combine leather pants whit a black graphic Tee and some black sneakers. All black outfits are the way to go!
If you're a fan of all black outfits, here are 9 tips to master them in 2019.
5- Adidas matching set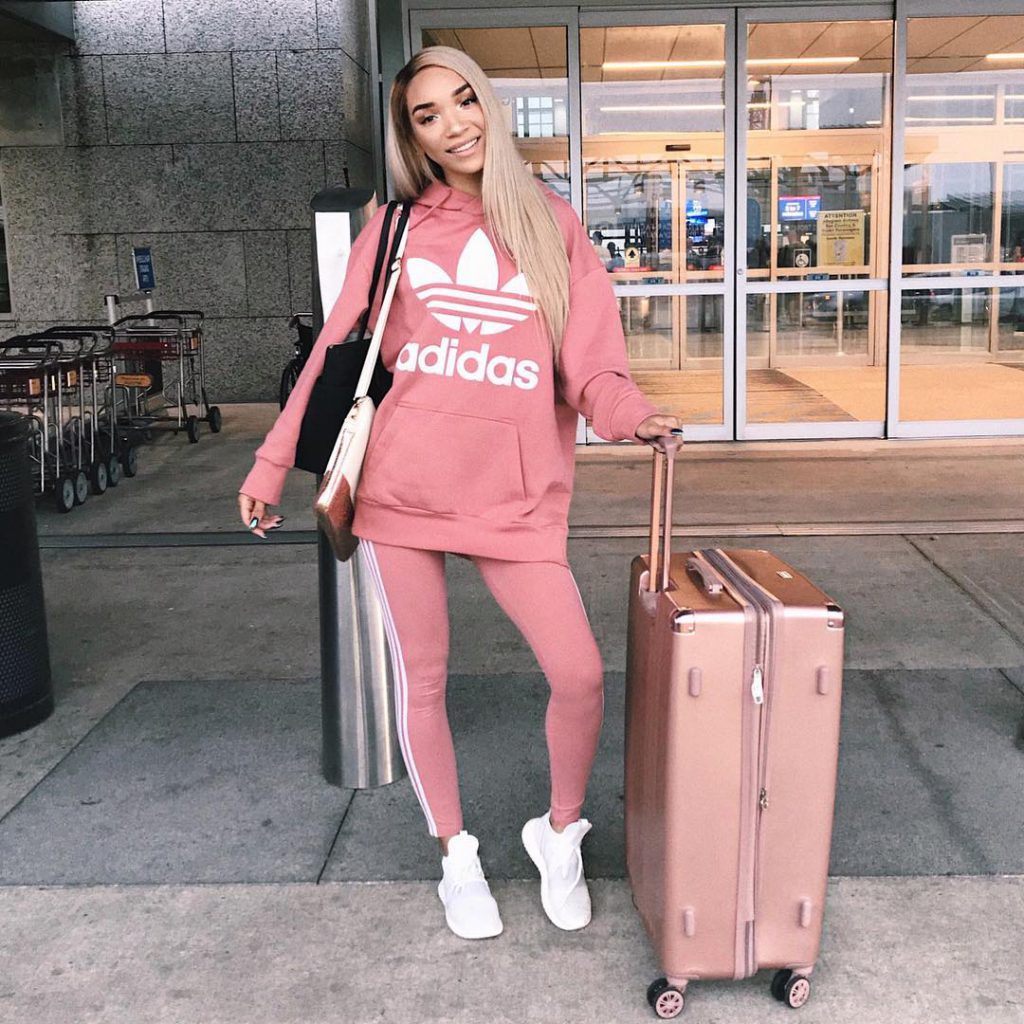 The all-time classic. You simply can't go wrong with an Adidas matching set, it is both trendy and incredibly comfortable. You should definitely try the pink one for your ultimate airport outfit!
More

airport outfit ideas on page 2 ↓