You can't go wrong with an all black outfit. This statement has been and will remain true for centuries. In fact, black is one, if not the most versatile color in the fashion industry. Which means it can be matched with any other color and so for many purposes. Thus, every woman should have black clothes in her wardrobe. These items provide endless outfit opportunities. As you might not know, notorious fashion influencers associated the monochromatic color with elegance and sophistication. Countless celebrities have made fashion statements wearing black suits and dresses at events such as CFDA Awards 2019, Seoul Fashion Week 2019 and even MET Gala 2019.
We know for a fact that creating outstanding all black outfits isn't easy. The difficulty is to avoid "looking like everyone else". If you want your style to be trendy, you have to understand some key factors to make it stand out. All black ensembles can be extremely fashionable when you know how to select the right items and how to wear them correctly. When you'll understand these 9 tips and tricks, black will becomes your go-to color when you're in a rush and want to create an amazing outfit. It will literally take you seconds!
If you're already the type of women who likes to wear black all the time, these tips and tricks will help you to make your outfits more attractive and fashionable.
Design tips and tricks for all black outfit
When it comes to selecting black fashion clothes, there are key elements you should look for. In fact, as obvious as it may sound, you can't pair any possible black items together. Even though the monochrome color is one of the easiest to match, you still want to create trendy unconventional looks. To do so, we recommend you to give special attention to materials, proportions, and prints.
Materials
You want to mix the textures and patterns. There's nothing more boring than an all-black outfit featuring only one simple material. To keep things interesting, you'll want to pair different textures together.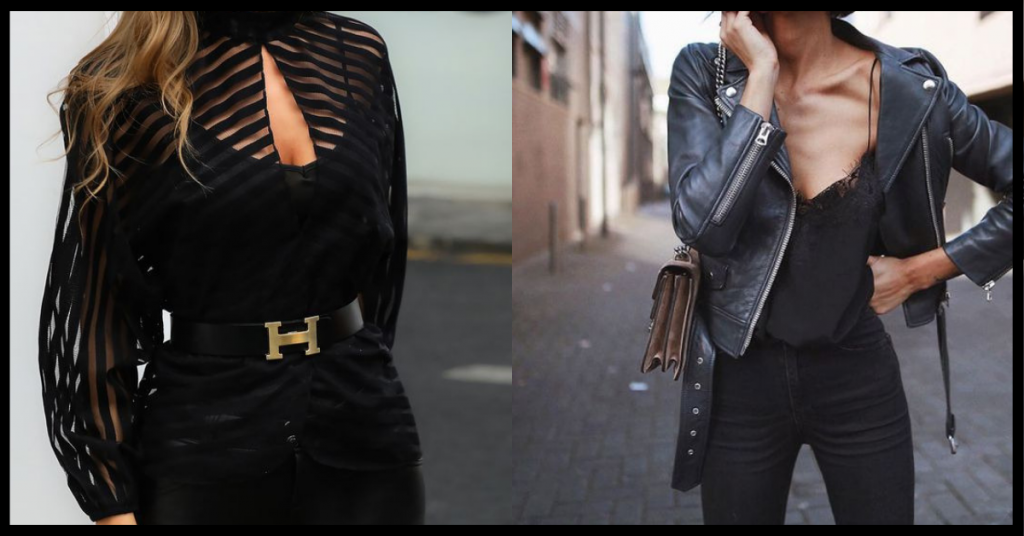 You want to play with different fabrics such as denim, leather, silk, lace, and velvet. Don't only stick to basic cotton, it will affect your style deeply. Also, don't be afraid pair bold materials together, simply try it on and you might be surprised when you see the result.
Proportions
The second thing you want to consider when it comes to selecting the right designs is proportions. Please avoid wearing a basic black Tee with basic black jeans. You want to play with different dimensions and cuts.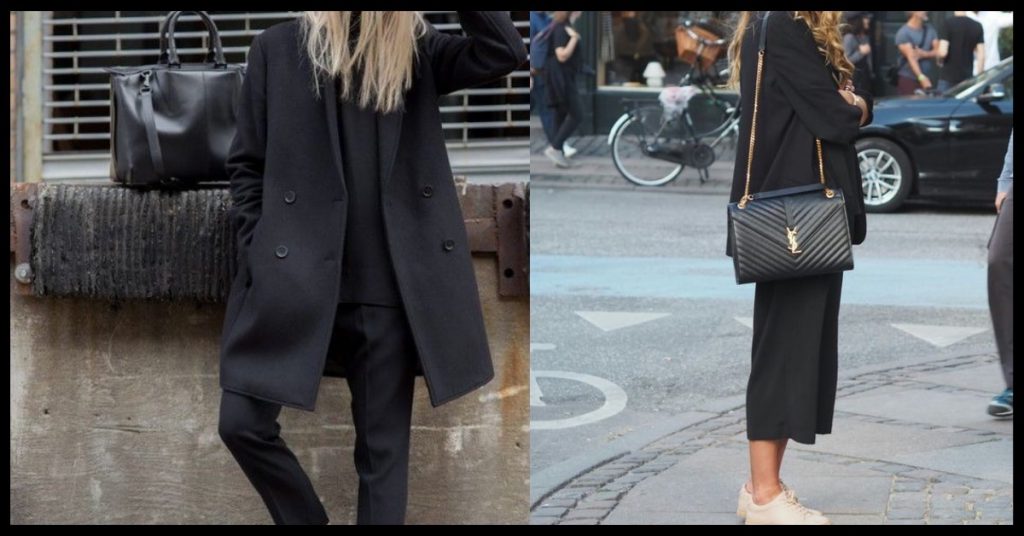 For example, you can attempt to pair a particular all black outfit with a short jacket, or maybe a very long one. The same goes for pants, you can either take regular or short cut pants. You can even decide to roll up your jeans. Possibilities are endless.
Prints and embroidery
One of the things that can bring a little sparkle on an all-black outfit is a printed item. It is an easy way to stand out and avoid being like everyone else. This tip is pretty simple to apply. In fact, most prints and embroidery will look good when paired with black. Be careful tho, don't overdo it and try to stick to one printed item.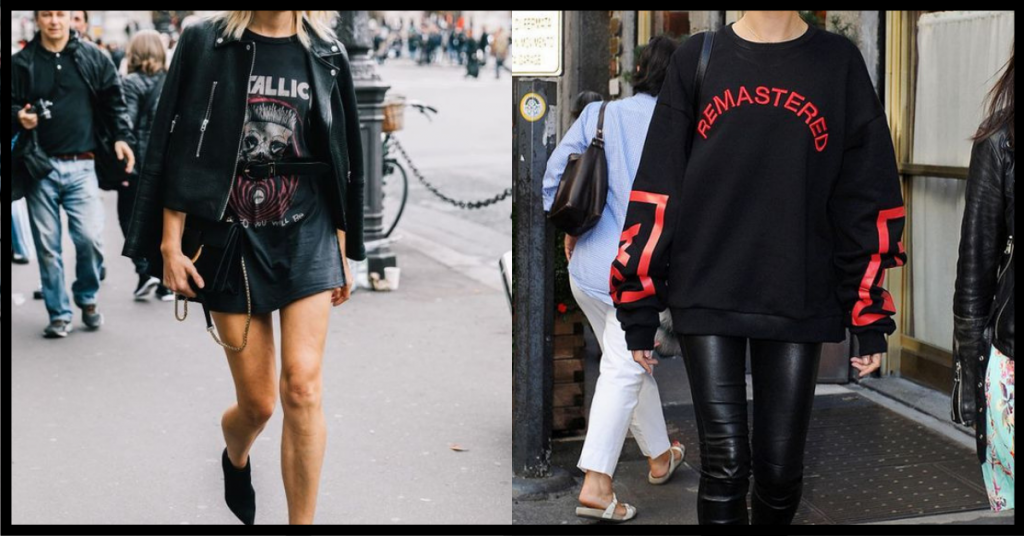 You simply can't go wrong with graphic Tees when you're creating an all black style. We recommend you to go with vintage prints as they are super trendy in 2019. One other tip that we can give you is to take an oversized graphic T-shirt and to style it as a dress. The result is amazing!
Fitting tips and tricks for all black outfit
Another important factor to consider when it comes to creating trendy all black ensembles is fitting. Depending on the occasion will want to go with different clothes sizes and fits. For example, if you're thinking of creating a girls night out black style you might want to try bodycon items. On the other hand, if you're going for a walk in the city, you might want to choose an oversized street style fit. In this category, we will cover oversized fit, body curves fit as well as some tips about showing women skin.
Oversized trend
Oversized clothes have made their way into 2019 trends. They have been seen in almost every fashion show worldwide and are now rooted in the street style community. This type of fitting is perfect for streetwear enthusiasts who love the urban lifestyle.
Fashion goddess such as @blvkd0pe and @naomigenes have created amazing oversized styles. From this trend, we recommend you to focus on jackets, hoodies, and sneakers as they are the most popular and the trendiest oversized items on the market. Sometimes, you can create your own oversized fit by buying stuff with bigger sizes, even on the boys section. Be creative, you don't always have to follow the brand's rules!
Body curves fitting
Black is a color that doesn't drive too much attention. It becomes important when you want to emphasize on your body. Therefore, when you wear clothes that embrace your body curves, selecting the monochrome color might be interesting as it won't be an attention stealer.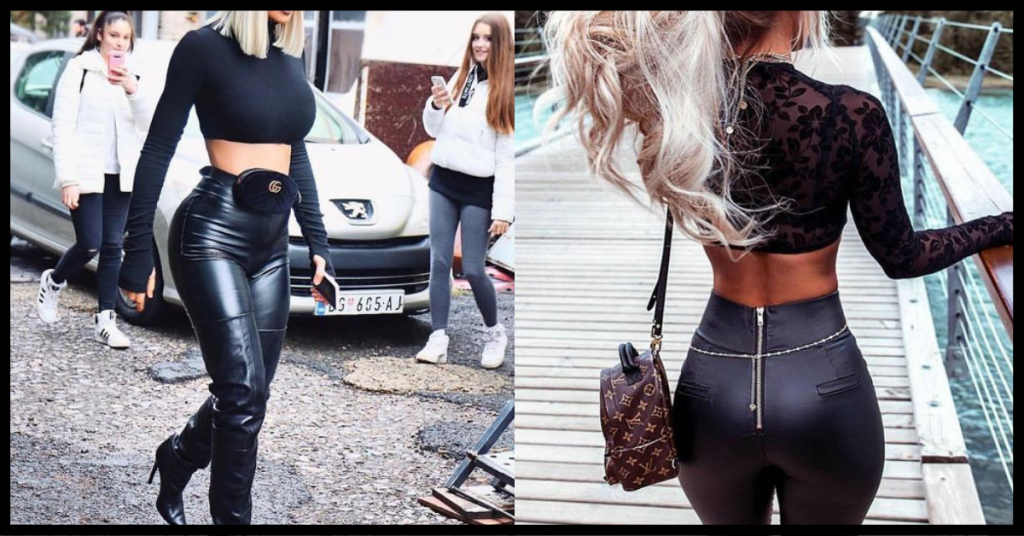 As you can see, those two fashionistas wear all black clothes that embrace women's body curves. Sure, their outfit is pretty cute but you simply can't ignore their body. Remember this tip when you plan your next night out style!
Show some skin
To bring a little spice to your black outfits you can select clothes that show your soft girly skin. Although it isn't always appropriate, showing skin can be a real asset to a night out or cocktail outfit. Here are some examples so you can make the most out of this tip.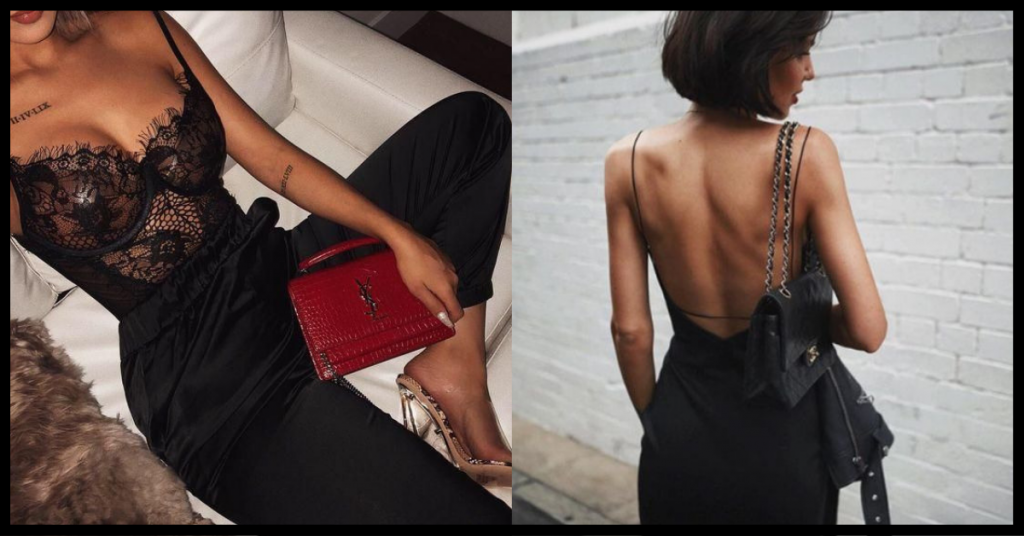 You should try lace nightwear and crop tops as well as backless dresses. PS – we want to take the time to mention that you DO NOT need to have the perfect "Instagram beach body" to rock these kinds of clothes. The only thing that is elementary to be comfortable in such items is to be confident with your own body. If you are, please try them. You can't imagine the number of compliments you will receive.
Accessories tips and tricks for all black outfit
A simple accessory can lift an all-black outfit from 0 to 100 in no time. You can't even imagine how important accessories are when it comes to wearing black clothes. We will never say it enough, never underestimate their power. In this section, we will cover different topics that are related to accessories such as jewelry, purses, and sneakers.
Jewelry
Go hard or go home! When wearing black clothes, your jewelry really pops out. Don't be afraid to go all-in. You can put on layered necklaces, bracelets, rings, and earrings. It will definitely bring some sparkles into your style.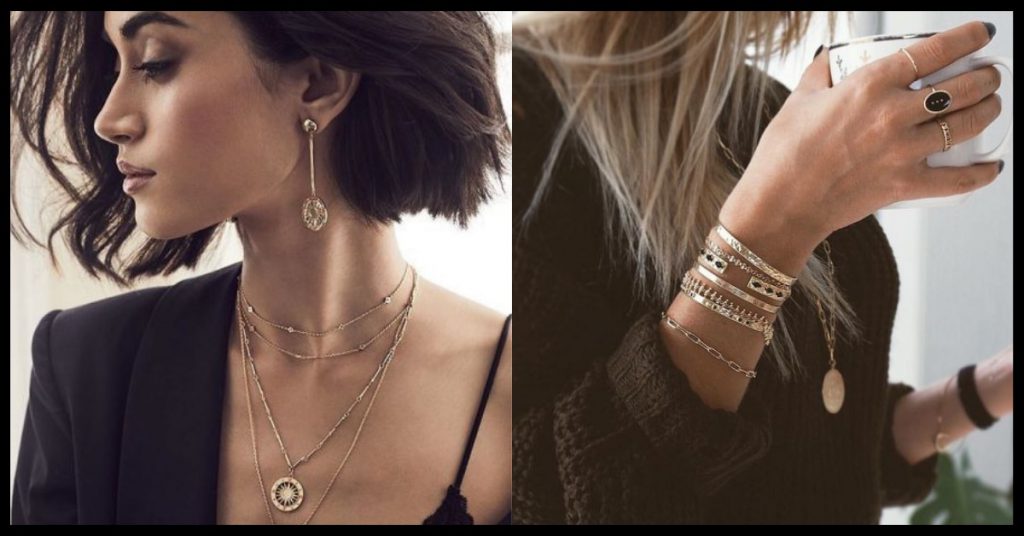 As you can see, both gold and silver tones look awesome when paired with black clothes. You can even mix them together. Remember, if you find your all black outfit a bit boring, adding some jewelry can really make a difference.
Purses
Bright or printed! You absolutely want to go with an unconventional purse. If you have an eye-catching designer monogram handbag, wearing it with black clothes will make it really stand out. And, if you paid a lot for it, you want people to notice it!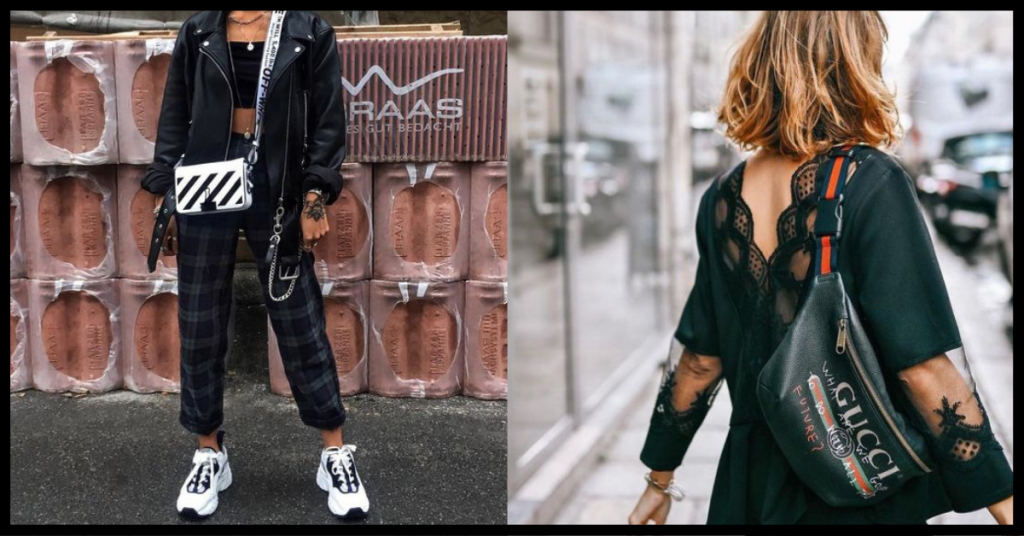 Whether it is a shoulder bag, a clutch, a pouch or even a fanny pack, all types of bags can look amazing when paired with black clothes. If you don't own a designer accessory, like most people, you don't need to worry at all. You can purchase, for example, a cheap neon shoulder bag that will spice up your black outfit for 20$.
Sneakers 
As for purses, you want to go with bright colorful and unconventional sneakers. If you're a sneakerhead, all black outfits should allow you to wear your most exclusive pair. You absolutely want people to notice your limited edition sneakers.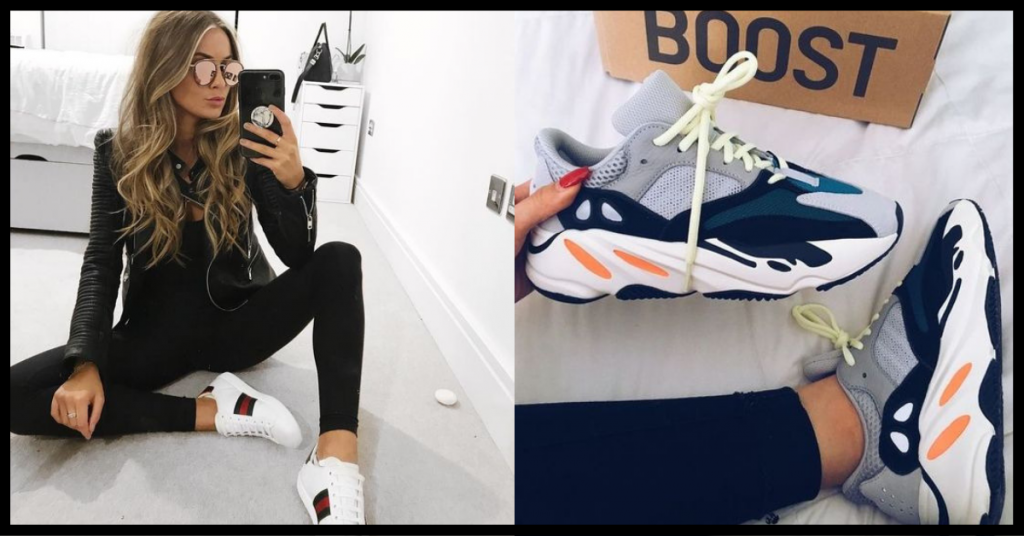 Avoid wearing basic sneakers such as black vans or Toms. Dare to try chunky dad sneakers and colorful shoes. If you don't want to go too funky, white will always be an amazing color choice to mix with black.
Before you go 
Let's wrap up what we just covered. There are 3 key elements to go over when you want to create a black outfit: Design, fitting and accessories. If there is only one thing we want you to remember is to try to be different when selecting your black clothes. Go for bold designs, unconventional fittings, and sparkling accessories.
We hope you enjoyed our 9 Tips and Tricks to Master an All Black Outfit in 2019. You might want to take a look at those 20 cute and cheap jumpsuits to try in 2019